Shopping Cart
Your Cart is Empty
There was an error with PayPal
Click here to try again
Thank you for your business!
You should be receiving an order confirmation from Paypal shortly.
Exit Shopping Cart
After a very busy week quilting customer quilts, as I took a large quilt off the frame on Friday,  I decided to sneek in Saturday and quilt up my hexagon quilt...  I decided not to make it too big as I decided it was too busy fabrics and would have benefited from some white solid fabric thrown in somewhere.
It wasn't until I was choosing the design to be quilted over this one, that I realised just how hard it is for my customers to choose their designs.  There are so many that would have looked equally as nice on this quilt.  Being busy fabrics, not much is really going to show up in certain lights, so I decided on a textural design, and one I have not yet quilted up.  I thought that this design was going to be one that I never got to actually quilt out, being so small, most customers are put off as most people like a fairly open design, plus some of these smaller designs are slightly more expensive to get quilted, as they generally take longer to quilt.
However, this one was not too bad and flowed quite nicely over my small quilt.
Again, on choosing my thread colour, I was reminded how difficult the choice is sometimes when there are so many colours which would have looked equally as good.  I settled on "buttercup" in the end, being a yellow/gold colour which worked out well.  I couldn't decide between the yellow and a couple of shades of duck egg blue....  decisions decisions....  that being said though, I do like the finished result.
I had hoped to bind it today, but too many other things take over on a Sunday....
I chose a lovely pink backing fabric which I have just received into my stock, it is a leafy vine design, pink on pink.  I am also stocking it in lilac, navy blue, apple green, burgundy, and it is available to order in many other colours too including grey, black, yellow.  It is 108" wide width and costs £15 a metre.
Isn't the texture great?  I love it, and it is destined for my studio, a sample, and a cover for my sofa too.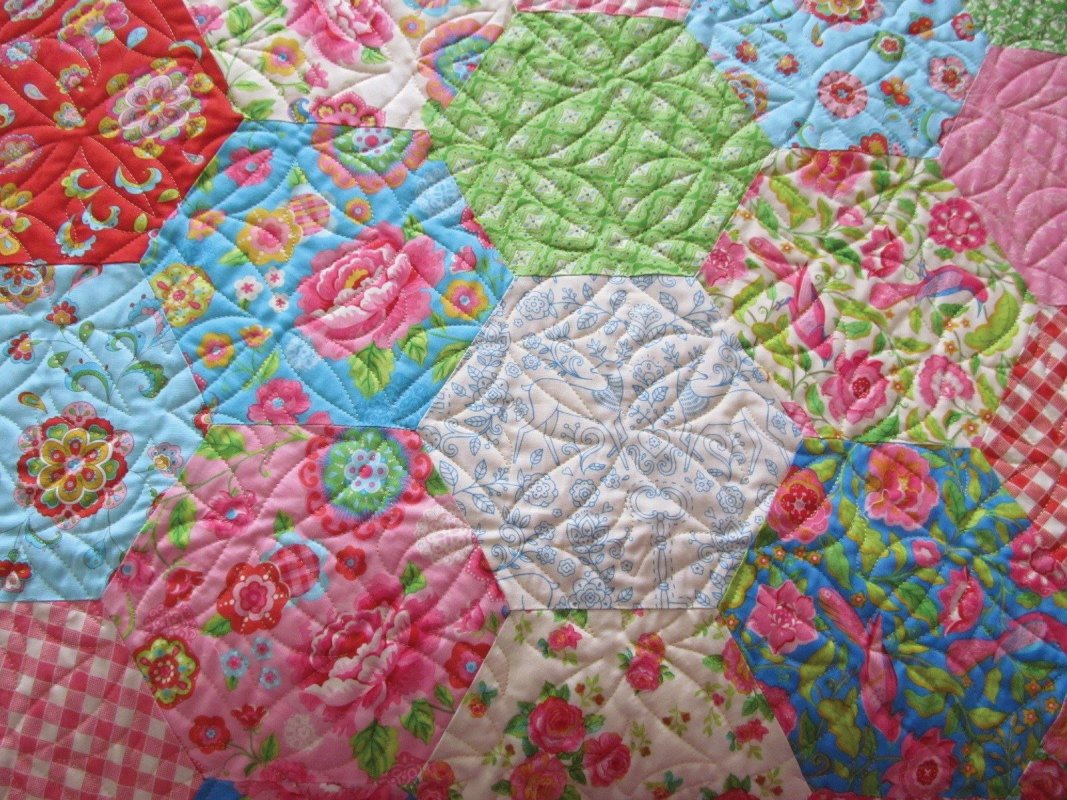 I had a little backing fabric left at the end of the quilt, and I had a small piece of patchwork which I hand pieced on a holiday a few years back now...  LOL  so I decided to practice a bit of freehand swirly feathers over it, and it is going to be made up into a little case for makeup or gadgets of some kind...  it literally took 10 minutes to quilt it, it is tiny... and when I get around to binding it, it might make a great glasses case actually...

/