Shopping Cart
Your Cart is Empty
There was an error with PayPal
Click here to try again
Thank you for your business!
You should be receiving an order confirmation from Paypal shortly.
Exit Shopping Cart
Happy New Year to all of my customers and readers of my blog...  I have been having a lovely break over the Christmas holidays with my family, after a very busy November/December trying to keep up with customer quilts and Christmas deadlines.  I admit I had rather overstretched myself with quilts this last couple of months and should have drawn the line a little earlier when promising Christmas finishes.  A couple of customers I had warned that it would be right up on the deadline, and it was...  the last pick up on Christmas Eve morning...  and as I am a glutton for punishment, I then quickly quilted a small gift quilt, which I gave to my Step Mother in Law for Christmas, made from Moda Vin du Jour fabric,  and I managed to squeeze in a small Christmas table runner with some seriously fast freehand quilting, although this was only 18" wide and didn't take long plus it was not bound until boxing day.
 I didn't manage to fit in the christmas stockings I had been hoping to make from a christmas fabric panel that I had managed to buy earlier in the year...  as part of a fat quarter bundle...  lol, but then there is always next year !  (along with the other two christmas themed quilts one I made last December, and one a couple of months ago !)

So, as far as my own quilting goes, it has all sat on the back burner, and I admit to have had a very lazy family Christmas holiday which just flew by and now we are all back to normal working.... I expect I will find time for it all eventually...  but for now I have lots of customer quilts for January to quilt and get back to their owners.

And after downloading my camera and ipod to my laptop, I now have tonnes of photographs to be shared on my blog very soon....
Here's to a happy and successful 2014 to us all....  so off I plod to my studio ....  hi ho, hi ho, its off to work I go !!!   

This pretty quilt was made by Irene to be raffled for a local charity.
It is a gorgeous friendship braid quilt, beautifully made, and well behaved on the frame....
I quilted it with Hearts n Roses with a pale silver thread, which has blended in over those pinks greens and creams...  with lovely results.
Joyce made this gorgeous quilt and I love the muted colours of this quilt, I love getting to see so many different colour combinations in my customer quilts.
Joyce made an excellent job of making this sampler style quilt and she tells me that she is fairly new to patchworking.   She chose a sand coloured thread which blends beautifully, and she chose the Hearts n Roses design, a lovely soft open design.

And once this is finished and bound it will look even better...  Happy 60th birthday too for the recipient of this quilt.
I really am not complaining as it was lovely to work with silk, but at the same time it wasn't as the fibres just flew all over the place - mainly onto me, and was very itchy....  the worst possible day to wear a dark red jumper.... LOL  ....  (ignore the unflattering angle!!!!)   the quilt results were worth the itching though as it quilted up just beautifully, and the silk wadding is light and lofty. 
The quilt was made by my customer Katie, and she chose the Hearts n Roses design and a buttercup yellow thread.  It was my first time quilting on silk and luckily it didn't present any problems at all.   (well except for the itching....)

The centre is an embroidered silk panel, surrounded by some gorgeous solid colours...  love that purple...

Another first quilt for one of my customers - Jo, who has made a wonderful job on her very first quilt.  I quilted it with Hearts N Roses, in a gorgeous jade green thread.
Don't you love Kaffe Fassett fabrics?  wonderful for her first quilt.  Her second quilt is already on its way to me which I am looking forward to seeing very soon.
I recently quilted two quilts for Angela, who is a fairly new quilter.  The first one is a lovely cream flower quilt, and the hearts n Roses design suits the large cream blocks very nicely.  I chose a slightly darker than cream thread, so that it did not completely disappear in the blocks.  The photographs possibly don't show that very well.
The second quilt, is certainly my colours...  I just love the pinks and purples in the quilt.   I also like hexagon quilts having just made one for myself.  Well it is pieced, not yet quilted.  Maybe this weekend....
Anyway, Angela chose the Hearts n Roses design again for her hexagon quilt, and is gifting it to a friend.  I chose a lovely dusky purple thread, which again blends beautifully over the quilt.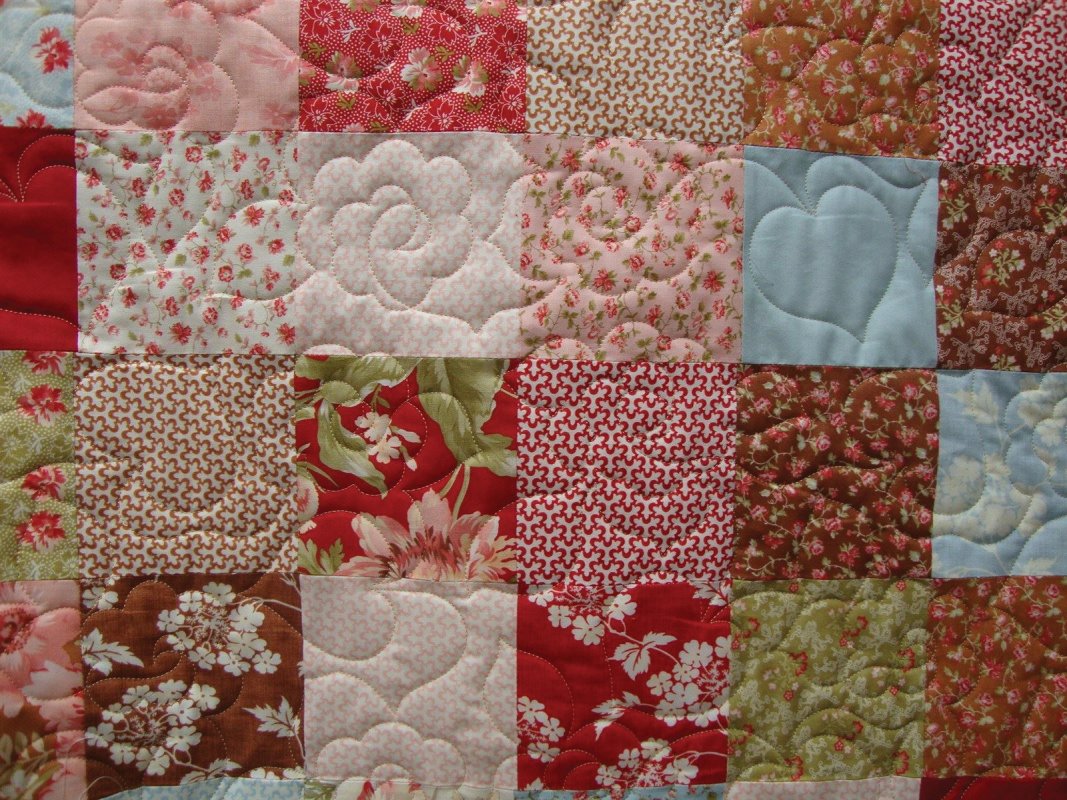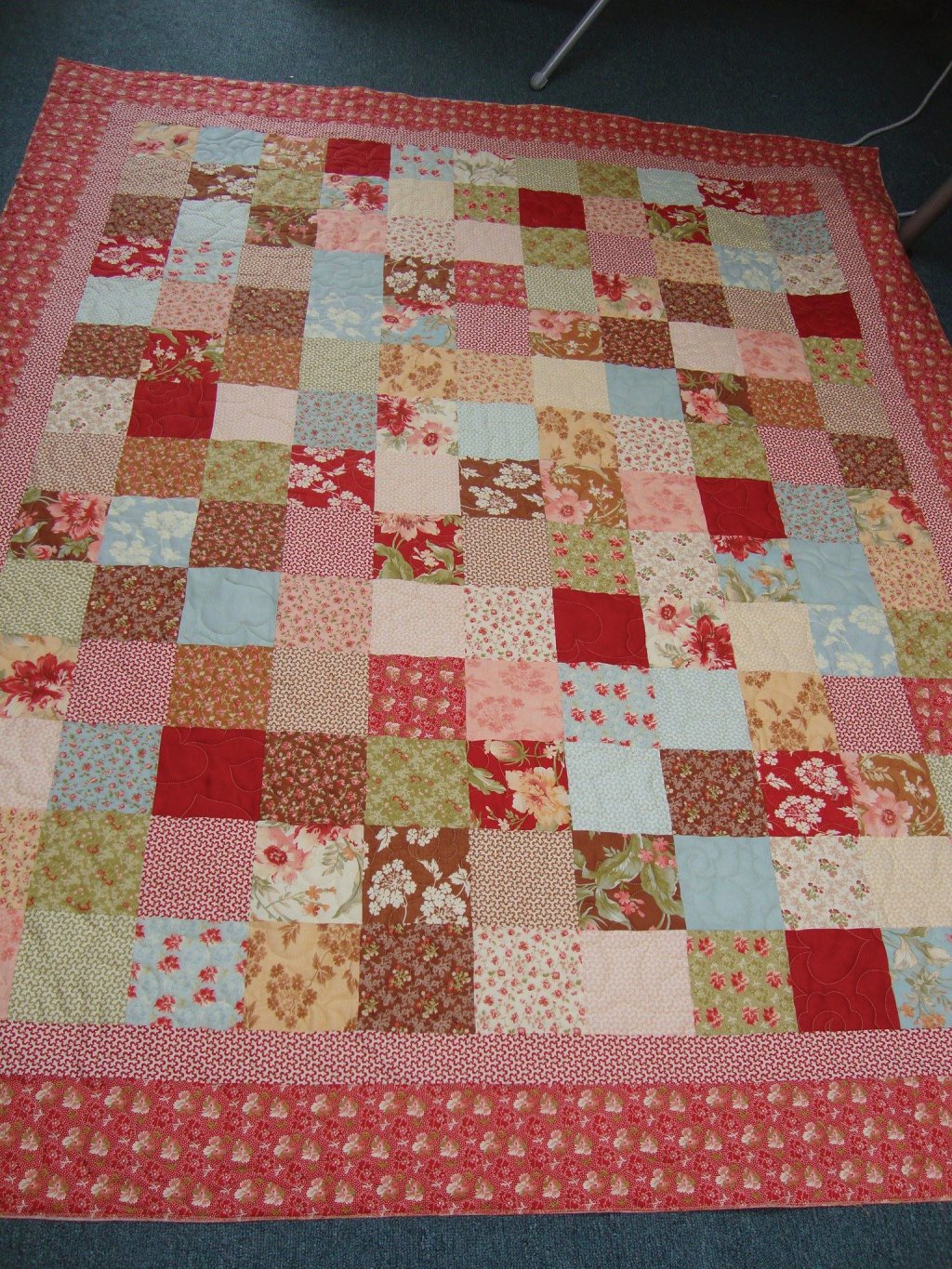 This quilt was made by my customer Jane for her daughers birthday, and it is her first quilt.  She has made an excellent job of keeping the quilt flat and square, and it was a delight to work on.  She chose the hearts n roses design, which I quilted with a sandy gold colour thread which blended just beautifully with the gorgeous fabrics in her quilt.   I love it.  I have some similar peach floral fabric which I bought at the Dovercourt quilt show at the weekend,  but not quite sure what other colours to mix it with yet, but am thinking lime greens and buttercup yellows.
This is a lovely scrap 9 patch quilt made by my customer Dorothy, which was made from her scrap stash.   She chose the hearts n roses design to be quilted all over and I chose a cream thread so as not to over power the cream squares.   It was a very nice quilt to work with, and has quilted up just lovely.  In fact it would look lovely on my bed.....  sometimes it is hard to give back my customers quilt.....  LOL.
Hearts n roses is a nice open design,  and is chosen because of that, because some customers do not wish their quilts to be heavily quilted.  I have had a few of this design to quilt this last month or so, and will share some more photos soon.
/