Shopping Cart
Your Cart is Empty
There was an error with PayPal
Click here to try again
Thank you for your business!
You should be receiving an order confirmation from Paypal shortly.
Exit Shopping Cart
I finally met my new niece last weekend, and surprised my sister with a new quilt for her new baby girl.  Isla is gorgeous - so sweet and cuddly.
My sister loved the quilt too, and I even managed to psycically match it to her new curtains too....  and there I was worried that she wouldn't like the green.....  things are just meant to be...  She was secretly hoping that I would have made a new quilt for her.
It has a lovely flannel backing, so soft and snuggly, and I quilted it fairly open so that it is nice and soft.  I used a gorgeous variegated thread by Superior threads called "Seashell" and it looks really lovely on the white fabric.
And as I didn't make it up to Lincolnshire last weekend (a little lady called Lucey got in the way !!)  I even got to show it at show and tell at quilt group on Thursday evening too....
I have recently quilted "Hearts in bloom" a number of times lately.  I love this design, it is very girly and fairly close together design, it quilts up beautifully.
This one was made by a customer Anna Marie who is relatively new to patchwork, this being her second quilt made for her little daughter having made her first for her little boy a few months ago which I quilted for her too.
I love the little embroidered squares within the quilt, with lovely girly images and quotations.
A very subtle pink thread was used, so not to overpower the little embroideries.  So sweet.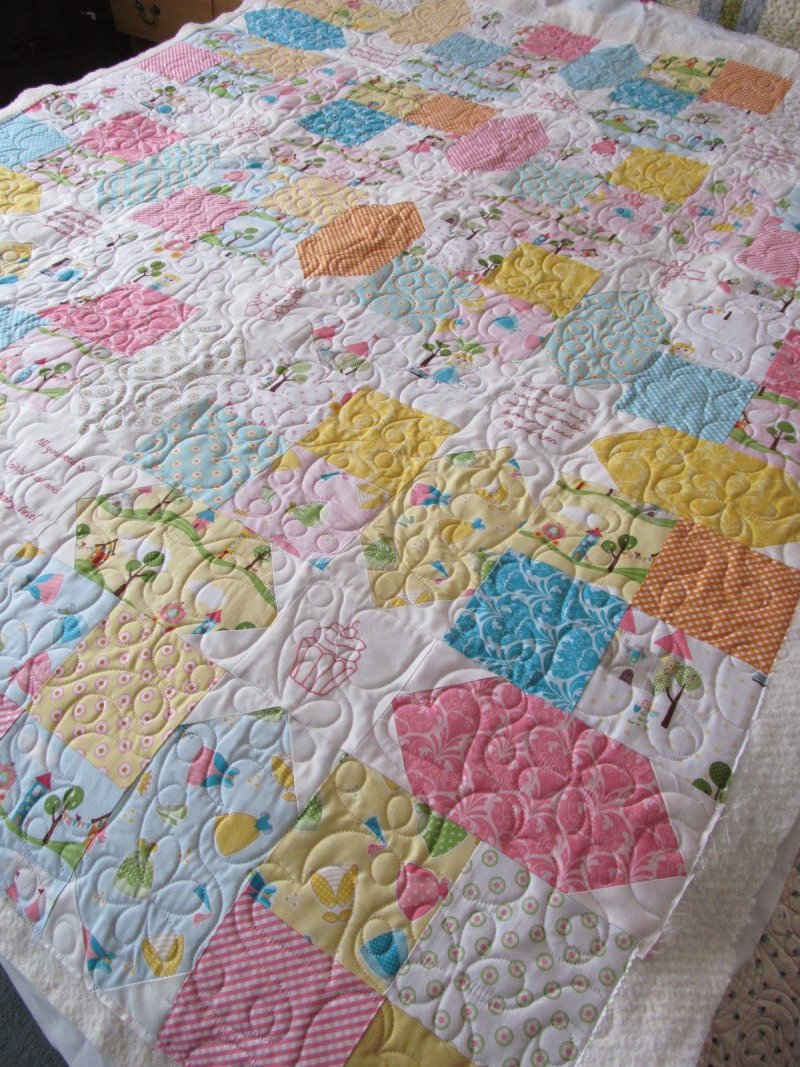 Happy New Year and a  belated Happy Christmas, hope you all had a nice relaxing holiday time with your families and friends.  Time just seemed to run out just before the Christmas holidays and has zoomed by while taking a break with my family..  it just seems like Christmas eve was yesterday !!

My husband surprised me with a Kindle Fire which I was not expecting so instead of sewing in my holiday as I had planned to do, I got engrossed on my Kindle instead ...  at least I have a pouch already made  (see my previous post),  so have hoisted out my laptop cable and am keeping my kindle protected from any knocks.
We had a lovely relaxing family Christmas and although we didn't seem to do that much, it was nice to be together and not have to do too much work.  We don't take many holidays and it is always nice to take time at Christmas and New Year.
Prior to the holidays though I finished a number of customer quilts, this one was a sample quilt made by June, which was sent to me in the post with instructions to quilt "Hearts in bloom"  I chose a plum/mauve backing fabric and thread and it turned out great.  It was a well made sample quilt in highly contrasting creams, blacks and purples.  Which would have also made a great quilt for some custom quilting too on the solid fabrics.  I was very pleased how it quilted with the higher contrast between thread and fabric which actually blended in quite nicely.
I have never actually made a sampler quilt, but when I see it in just three of four colours it is more appealing to me - maybe one day I will make one....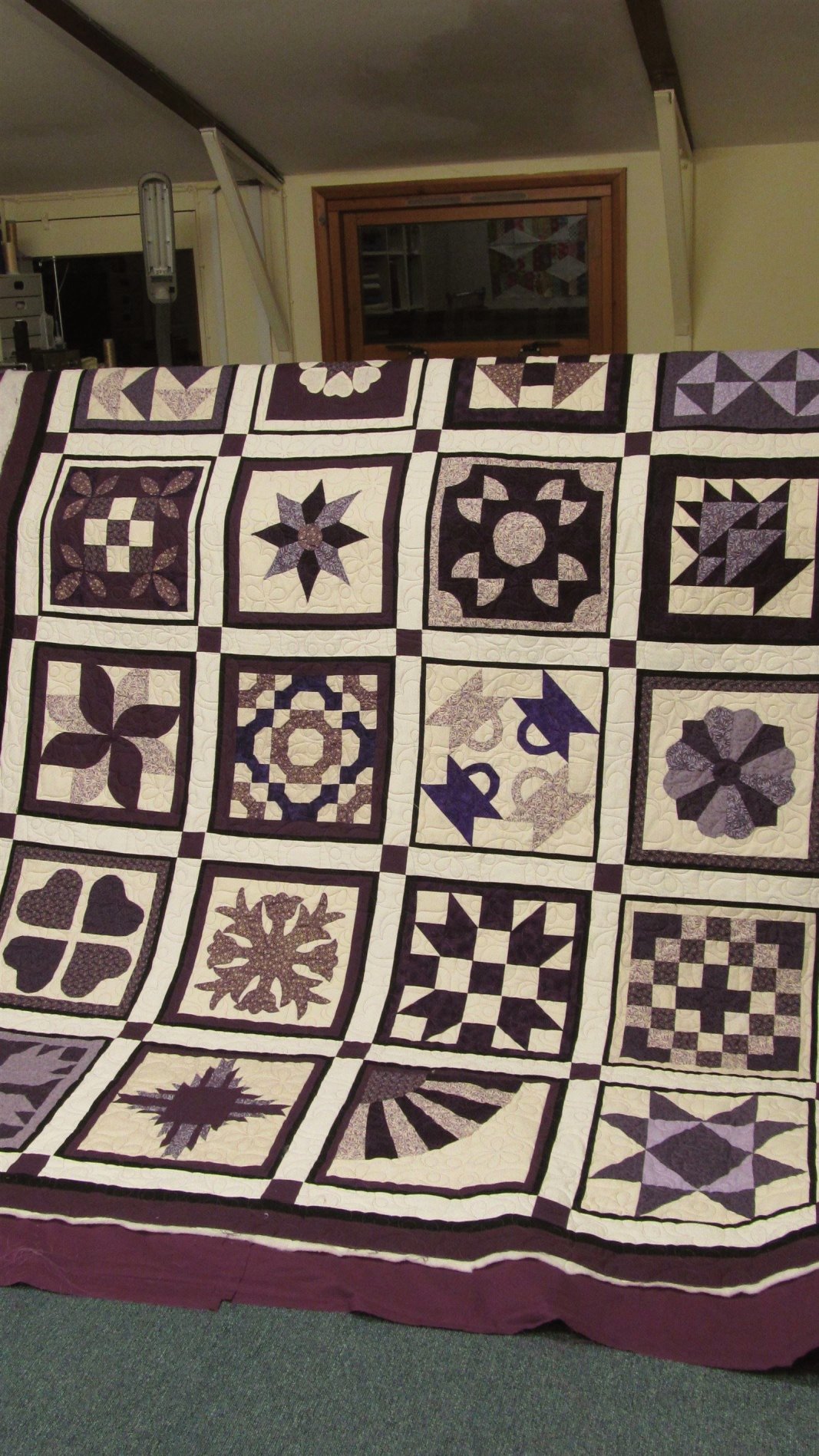 This lovely quilt was made by my customer Debbie.  The fabric is gorgeous, I think it is by moda - and I have yet to find a fabric by moda that I don't like ! 

Debbie sent her quilt to me in the post and requested "Hearts in bloom" with a red thread, so I was happy to oblige.  It looks great quilted with red thread too, so well done Debbie for selecting the perfect choice for your quilt.  I would not have immediately thought of red, but you were so right !
It has "hobbs polydown plus" wadding which has a great lofty feel to it and gives a wonderful quilting definition.  The hearts in bloom design is a fairly dense design and looks fab with big block piecing.

This backing fabric is gorgeous too.  I love the lime green, red and teal combination.

A couple of months ago now I met the cutest puppy belonging to my customer Janine who brought him with her when collecting her quilt.  He is so friendly and cute - his name is "Biscuit"  he was so happy, and so tiny.  Sam is mad about dogs so I made sure to take a photo for him to see.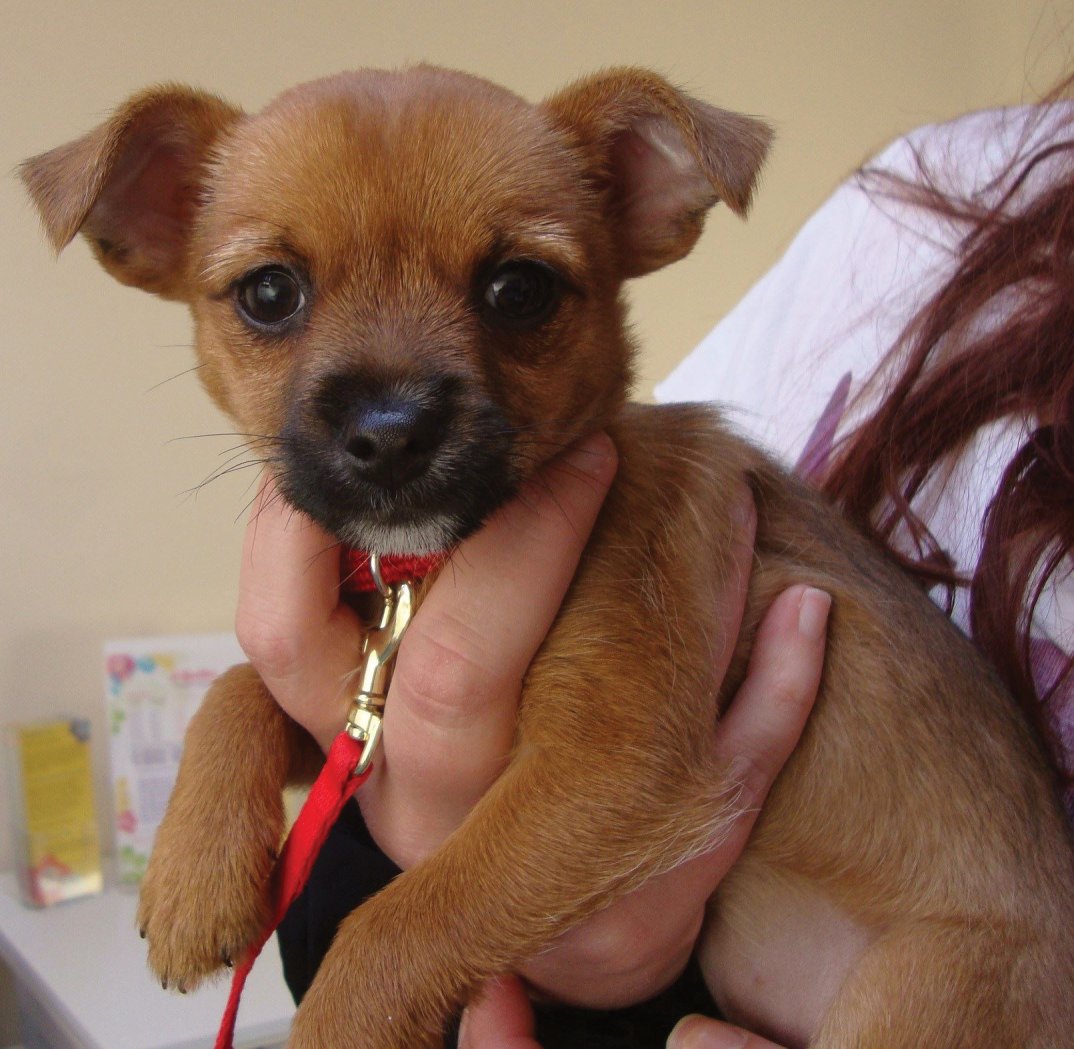 The "love hugs and kisses" quilt turned out great, with a peach coloured thread and hearts in bloom quilt pattern.
Another quilt that I quilted before Christmas, made by Jane which was a gift for her daughter.   This lovely quilt has appliqued hearts and flowers and I noticed some gorgeous liberty fabrics in there too.  I quilted it with an allover design called "Hearts in bloom" which is a lovely girly pattern, with a lilac thread, and 80/20 wadding.
Jane has since told me that her daughter absolutely loves her quilt, especially in these cold nights we have been experiencing lately. 
A little closer ......
Weirdly, my camera never quite tells the truth with purples...  but this photograph (which was taken in a low light) shows the wonderful texture that quilting adds to a quilt.  An 80/20 cotton/polyester wadding was used in this quilt. 
My new customer Nicola brought me 4 quilts a few weeks ago now, and I have been a busy bee quilting them for her. 
Following on from my previous post, the "Tickle" pantograph does looks great on a smaller quilt too.....  I love purple especially purple batiks.  It has reminded me about my purple batik quilt, which is on our camper at the moment, I will have to post some photographs of it soon, which was actually my first quilt I ever quilted with my longarm machine. 
The next one has some lovely hand embroidered sayings worked into a couple of the blocks.  The quilt is pieced from a Moda layer cake called "Bliss" and has been quilted with the "Bush berries" pantograph.
I completely agree ......
This beautiful one, has lots of hand embroidered blocks, and some gorgeous appliqued butterflies and flowers.  This must have taken quite some time to make.  I have quilted it with the "Hearts in bloom" design in a very subtle silver thread. I always feel that my photographs never truly reflect the beauty in some quilts, this is one of them.  I really love it.  I believe that it was either a block of the month, or a kit. 
I will save photographs of the 4th quilt for another post, it is another great quilt.
/