Shopping Cart
Your Cart is Empty
There was an error with PayPal
Click here to try again
Thank you for your business!
You should be receiving an order confirmation from Paypal shortly.
Exit Shopping Cart
| | |
| --- | --- |
| Posted on November 9, 2011 at 7:18 PM | |
I didn't think in a month of Sundays that I would be able to draw feathers let alone complete a wholecloth design from scratch.  After seeing some divine wholecloth designs by fellow Longarm Quilters on various longarm forums and blogs, I thought I would give it a go after ordering Adam Chenoverts wholecloth tutorial DVD.  I started doodling during the first couple of lessons (and confess that I still have not watched to the end yet) but it became rather addictive once the basic principles are understood, although I need to buy myself some  better drawing pencils.
Mine are alot simpler than others that I have seen which are absolutely stunning and intricate, but I kept reminding myself that whatever I draw I would also have to quilt and this is not the kind of quilting that I am used to, but I wanted to set myself the challenge of attempting it to see if I could do it or not.  You can see that the centre does not quite line up, and I must have drawn the centre section with a tiny gap between the two halfs.  This is drawn in miniature first and then enlarged on a photocopier and any tiny indescrepancy becomes a large one !!  I am not too worried though as I will just redraw the centre motif before I mark the fabric which is the next step.  There will also be background quilting which I have not marked.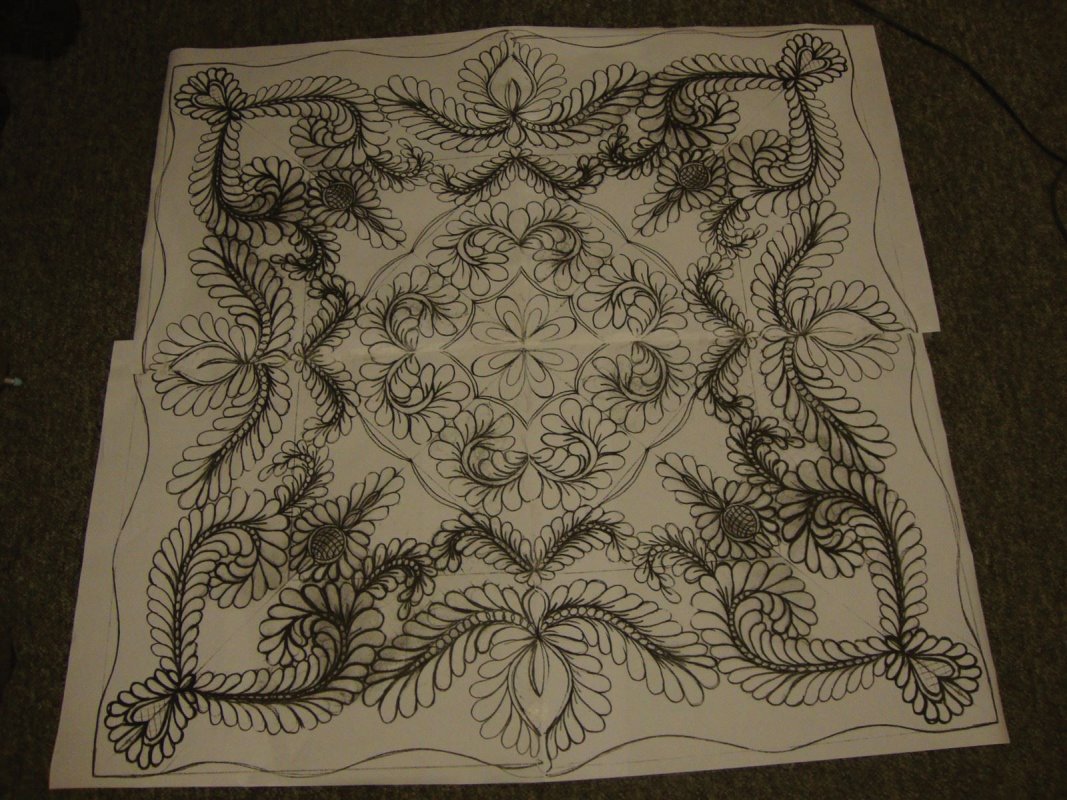 Of course once you do one, you have to do another as it really is quite an addictive way to spend some of the weekend, this one is the same design, but with a different centre overlayed at the moment.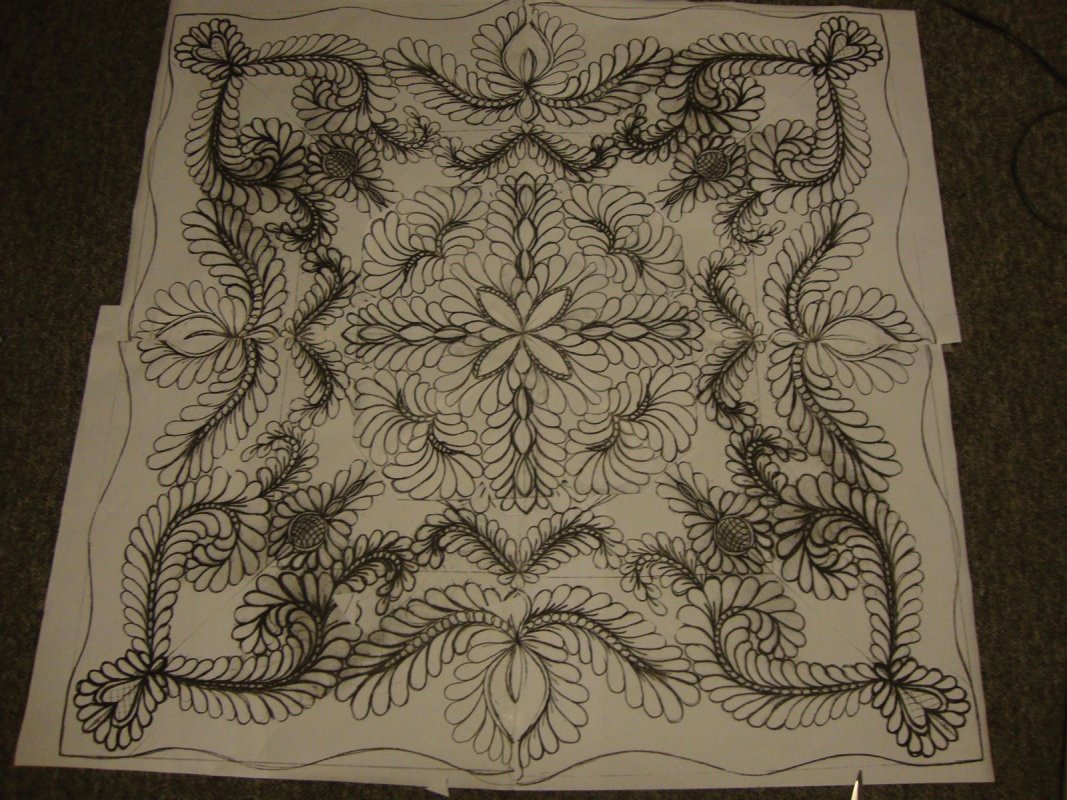 Although I am not that keen on the next one because it is more open, I could perhaps add some more to it, as I like some of the motifs.  I just doodled it last night and it needs more to it really but I am pleased that out of 3 first wholecloth designs that there is one I would like to quilt, and who knows maybe there is a masterpiece still in me yet.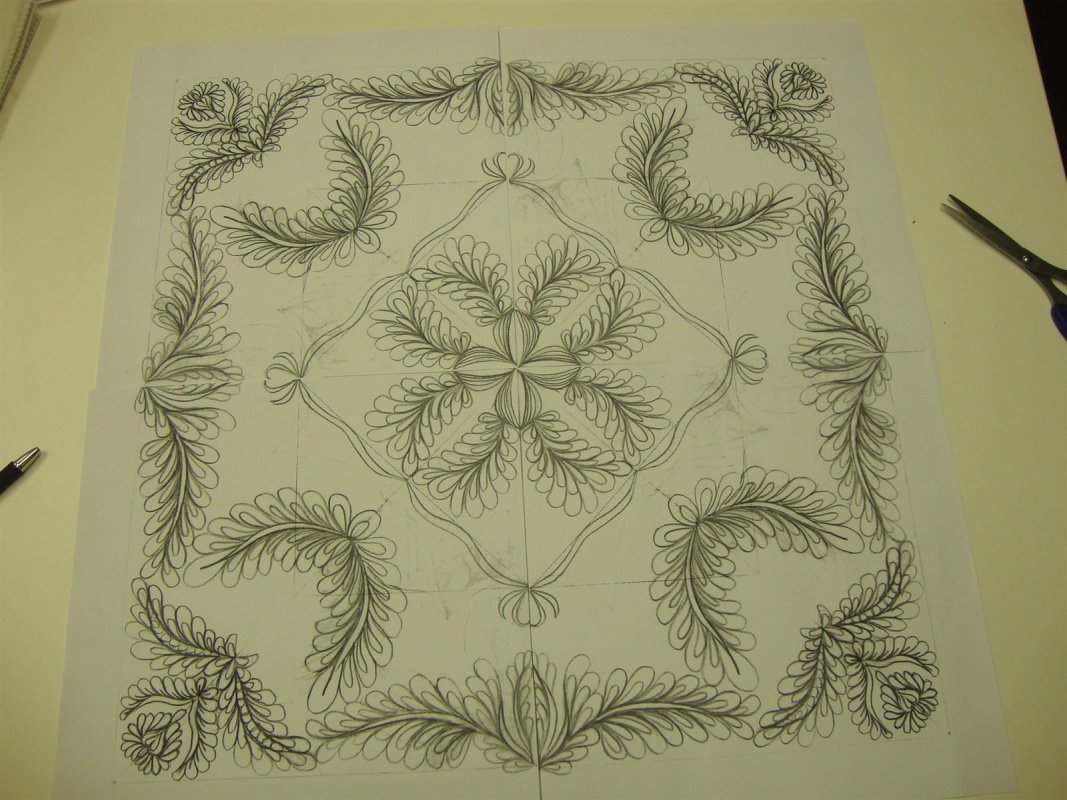 I actually can't draw feathers, (or anything else for that matter)  so if I can do it, anyone can.
Mind you - this is just on paper, marking onto fabric and quilting it may be another story entirely - LOL....  so watch this space maybe in the distant future.....  perhaps a Christmas holiday project?
So which one to quilt?  I think the first one and if that one goes well then maybe the second one, I don't think the third one is ready for quilting quite yet, although maybe with some background quilting and crosshatching it could be.
Categories: General, Wholecloth and design
/