Shopping Cart
Your Cart is Empty
There was an error with PayPal
Click here to try again
Thank you for your business!
You should be receiving an order confirmation from Paypal shortly.
Exit Shopping Cart
This post is definitely the most proud post that I will ever be likely to make.  My quilt "Kaleidoscope" has just won not only a 1st prize in "Traditional Quilts" category at The Festival of Quilts 2015 but also the prestigious "Best in Show" award.
I had been notified the night before the show started that I had won the 1st prize for Traditional quilts ...  you should have seen me literally jumping up and down (my poor back) in my studio which is where I was when I heard.  So I was asked to go to the awards ceremony taking place the next day. 
This being my first time entry into The Festival of Quilts I had no clue where I needed to be and what to expect,  and after driving up to Birmingham NEC on the morning of the ceremony I arrived with only about half an hour to spare before the awards started.
So off I toddled to accept my award for First place in Traditional quilts and being handed my certificate and prize cheque.  I went back to sit down.
There are 18 categories in this show and over 1800 quilts were entered this year.  A panel of experts then chooses the Best in show from all of the first prize winners.  I was up against some big names in the quilting industry at this point and really thought there was no chance I was going to stand a chance.  Mind you I had not even thought that I would place in Traditional quilts as I have seen some stunning quilts lately being created for entry into this category.
Therefore when my name was read out as Best in show, to say that I was stunned was a complete understatement, so off I went shaking to collect my certificate and prize cheque.  Walking off the stage after photographs I was in a state of shock, I could feel my chin beginning to wobble, so head down so people would not notice I was starting to cry...  but I couldn't control my emotion, and was completely overcome in the moment. 
Since winning I have had some lovely emails, texts, and personal congratulations from many of my friends and customers, which means so much to me.  Thank you all.
If I had known that I would win like this I would have insisted that my family come with me to see me.  They thought I was kidding them when I rang them.  Thankfully I had friends in the audience to comfort me.
Anyway enough of me blowing my own trumpet.  This is my winning quilt.  It is called Kaleidoscope and is a pattern by an American pattern and fabric designer Vanessa Christenson at V&Co. 
I used moda fabrics called Chantilly, and a solid cream by Art Gallery fabrics.  I have used two layers of wadding, Hobbs 80/20 and Hobbs Wool to give it the trapuntoed effect. 
I longarm quilted it on my APQS Lucey with entirely freehand techniques, including the use of rulers.  NO COMPUTER (I was asked that a lot at the show)  I have used straight lines and dense quilting certain areas to make areas appear puffed up to give it texture and dimension.
I am so glad that the Judges liked my quilt the best this time around.  Beginners luck with my first entry, that's for sure.
I have been asked a lot how I created the scalloped binding, so time permitting, please do watch my website for some workshops in the future on how this is achieved.  (Ring me if you are interested in maybe attending)
I did enter another couple of little quilts, but that's a story for another day soon.
Love to all of my loyal customers without whom, I would not be here.

IN THE WINNERS GALLERY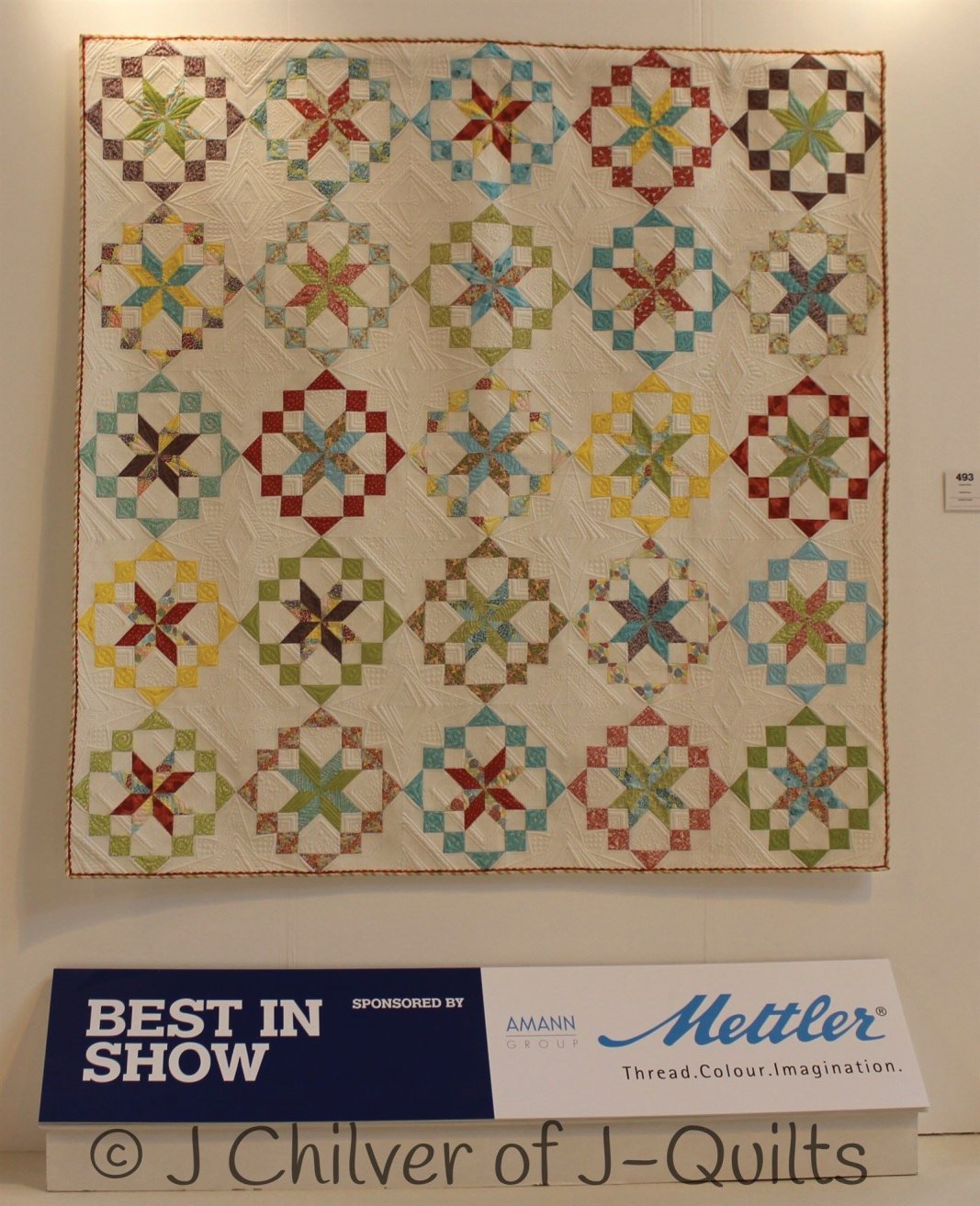 WINNERS GALLERY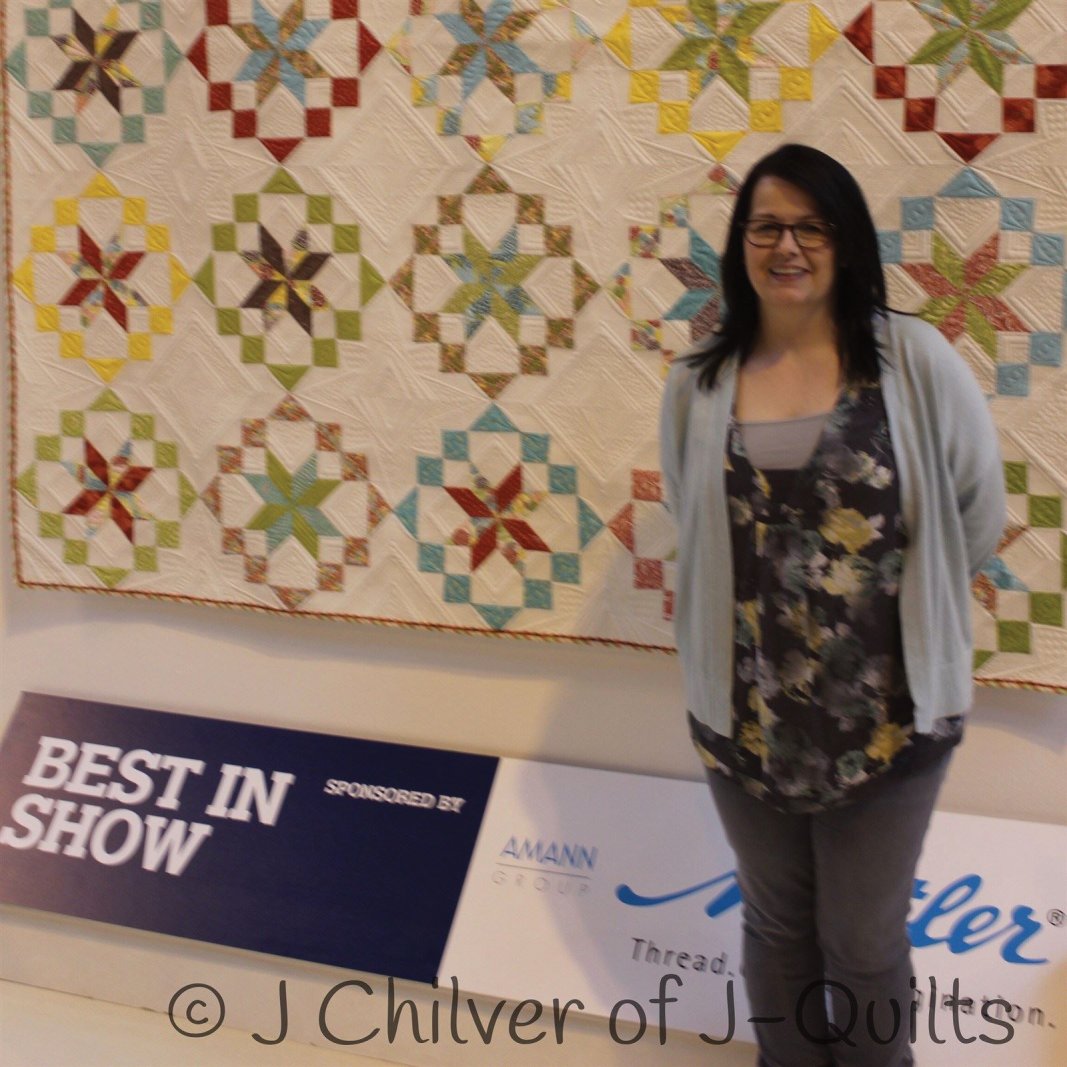 IN PROGRESS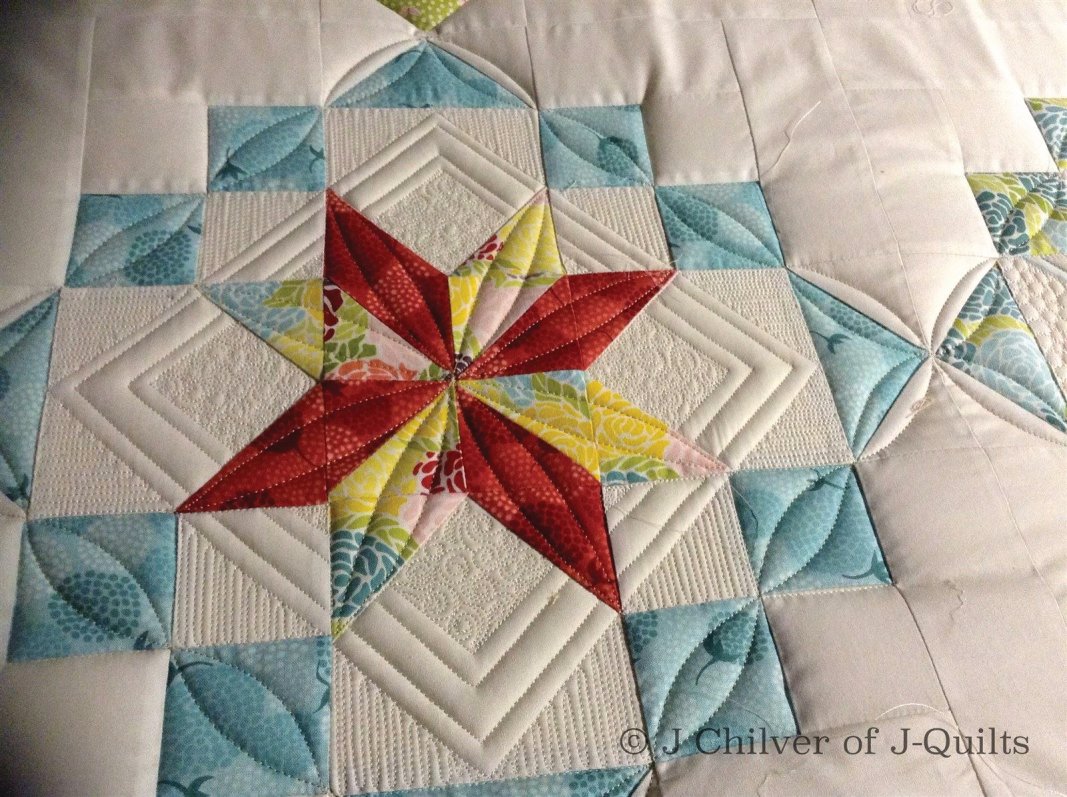 ON OUR BED (INTENDED USE)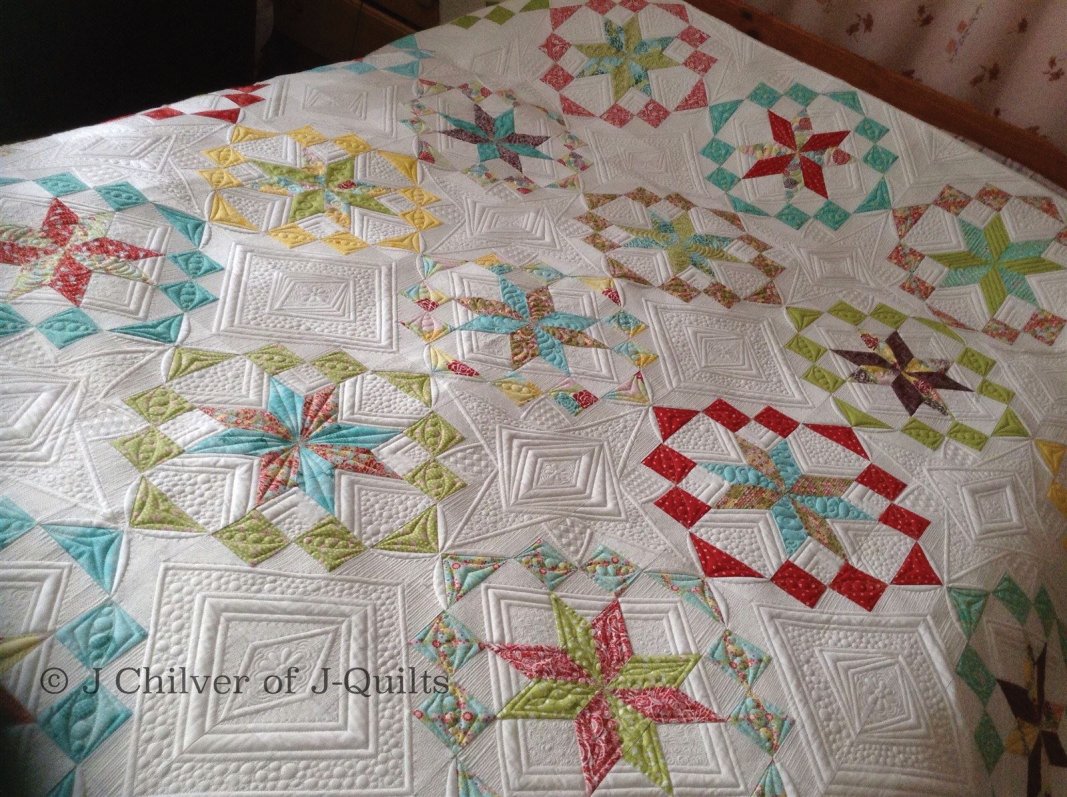 REVERSE OF QUILT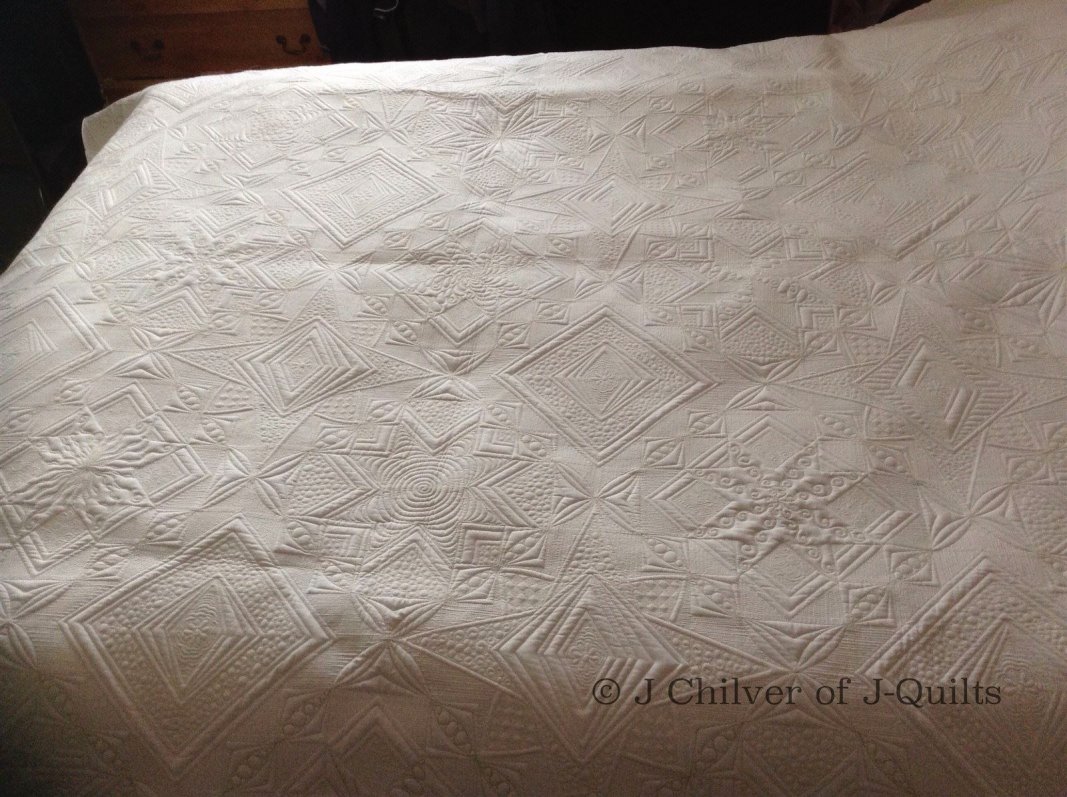 REVERSE OF QUILT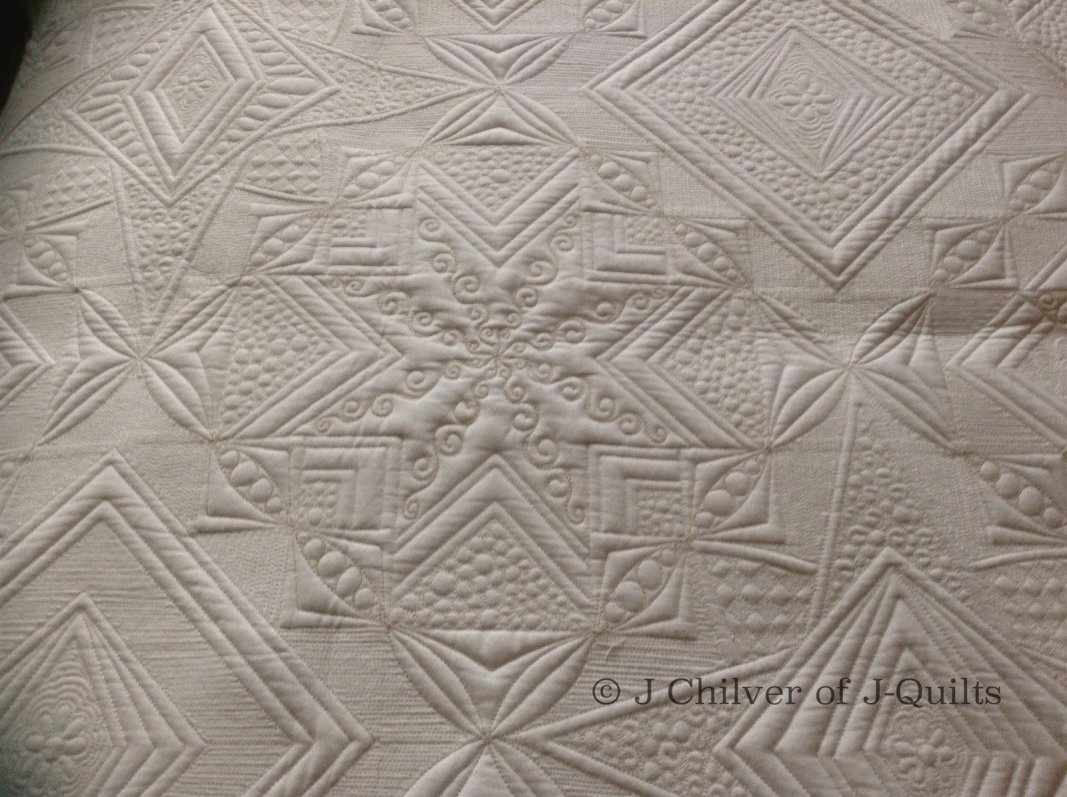 IN PROGRESS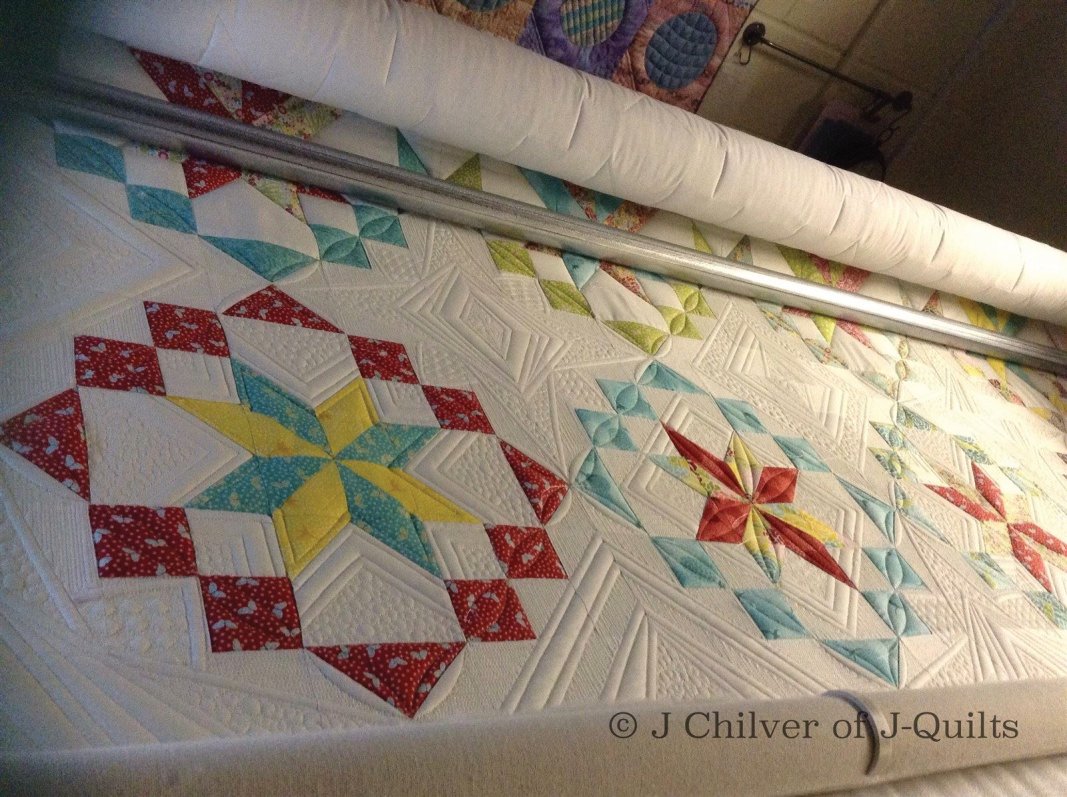 IN PROGRESS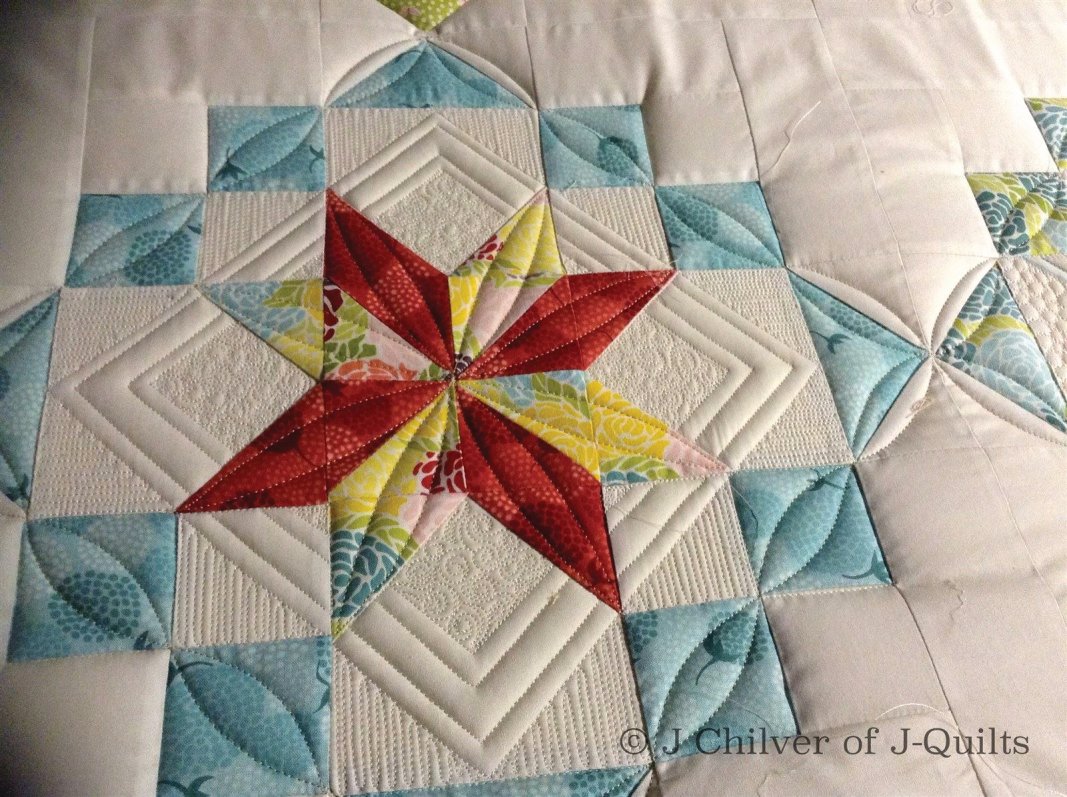 SCALLOPPED BINDING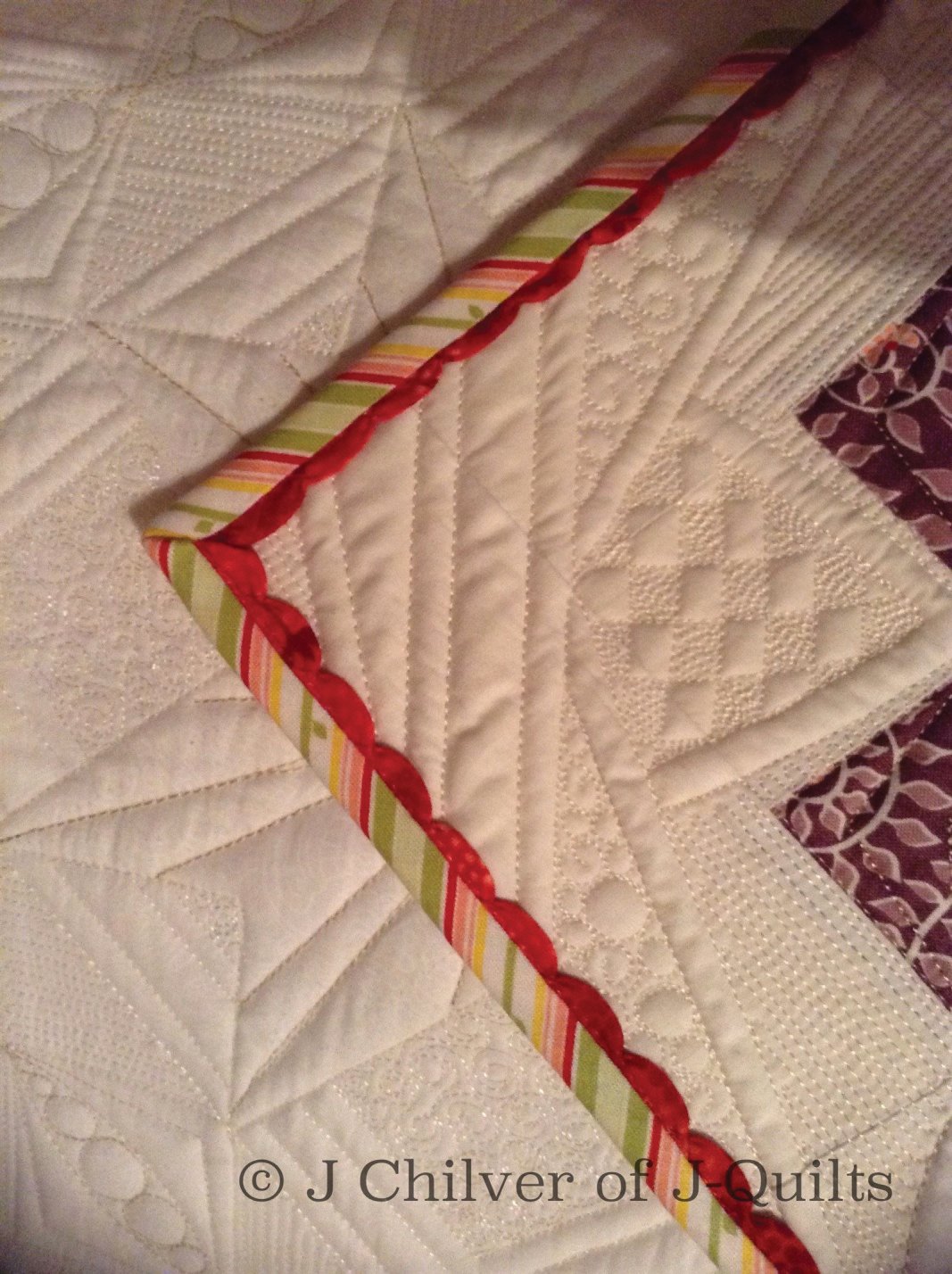 CLOSE UPS (CLICK ON PHOTO TO ENLARGE)
Its been a while..  where has two months flown to?  After spending the evening reading other quilty blogs that I follow, I decided it was about time I concentrated on my own !!
I have had an exceptionally busy few months with my full time job quilting for my customers, made busier by taking a couple of weeks off in August (holidays are very inconvenient - but oh so needed)
Although it seems like yesterday, back in July I gave a talk on Longarm Quilting to a group of quilters over towards Chelmsford way.  It amazes me that people request that I show my work to them, as to me I am just a normal quilter, with nothing really special to share, so I thought I would try and quilt something a bit more interesting.

I had pieced this quilt a few months back after seeing a few interlocking star designs on a few American blogs that I follow.    I kind of winged it and just made up blocks to the size that I felt lent itself well to the design, and to most effectively use my fat eighth bundle of "Daydreams" fabric by Moda.
I really love white backgrounds as they are great for some background quilting.  I kept the quilting fairly simple, but fairly dense in the white areas, just pebbles and swirls with a few straight lines created with some ruler work.  I used an offwhite thread by Glide, (my favourite).  Although my straight lines didn't quite create the effect I thought they would due to the interlocking nature of the design, I decided I liked it enough to continue on with it.. 

Anyway, I don't normally write this much in my posts so onto some photos..
Apologies for so many...  to see a large image just click on each image.  Most were captured on my ipad, but just yesterday I invested in a much better camera, I even bought a tripod too !!  So I need to up my photography skills now..  not to mention refiling all of my photos on my laptop...  I have tons of quilts that I have not shared this year, custom and allovers...
I was really pleased with the overall effect.

I recently hosted a workshop for some quilting friends, teaching the methods of how to make this hexagon quilt based upon the equilateral triangle.
My sample quilt is made from a very bright Moda jelly roll called Simply colour, by V&Co and some neutral marble moda in the setting triangles and sashings.
I custom quilted this a while back now in a weekend soon after buying Lucey, so I was using my quilt as a test piece to really fine tune the level of my table.  I freehand quilted simple swirls in the centres, and some simple freehand back and forths in the middle section of each hexagon.  The most time consuming part was the ruler work creating the circular movement around the hexagons, and of course the pebbling which is always a time consuming yet worth it task...  Although an allover quilting design would have looked very nice too, I just felt like custom would look good with the hexagons..  I love the back too, which gives a tiled circular movement.
I seem to be making hexagon themed quilts at the moment...  I recently finished piecing a Christmas themed one, with hexagons and triangles...  lets see if I get it quilted before Christmas though, as my last years Christmas quilt is still hanging on my rail of quilts to be quilted....  not complaining, just had a very busy year with customers quilts.  Maybe I will quilt some of mine over the xmas holidays...  I think I now have about 10 of my own to be quilted.  Not to mention the unfinished piecing projects..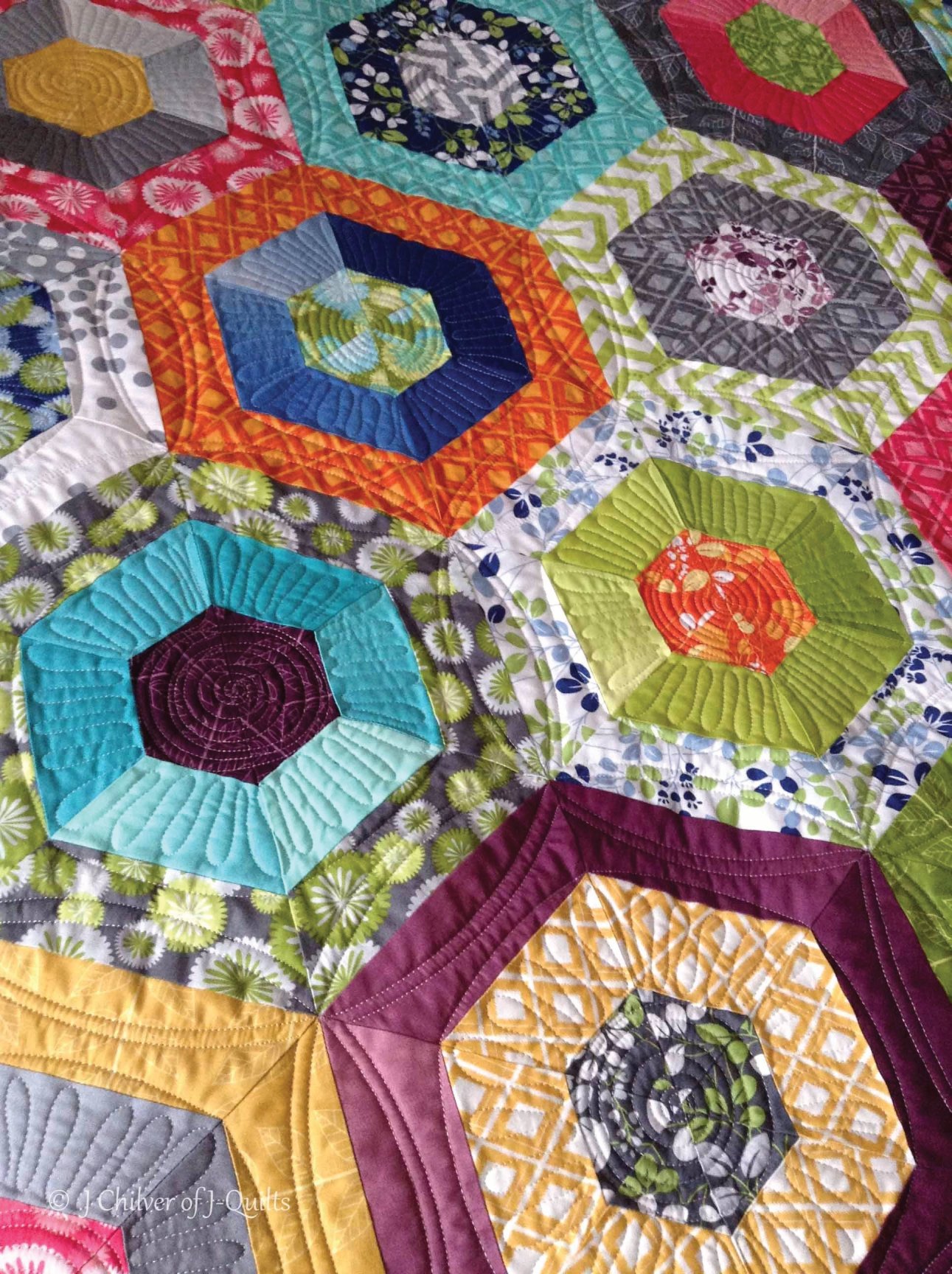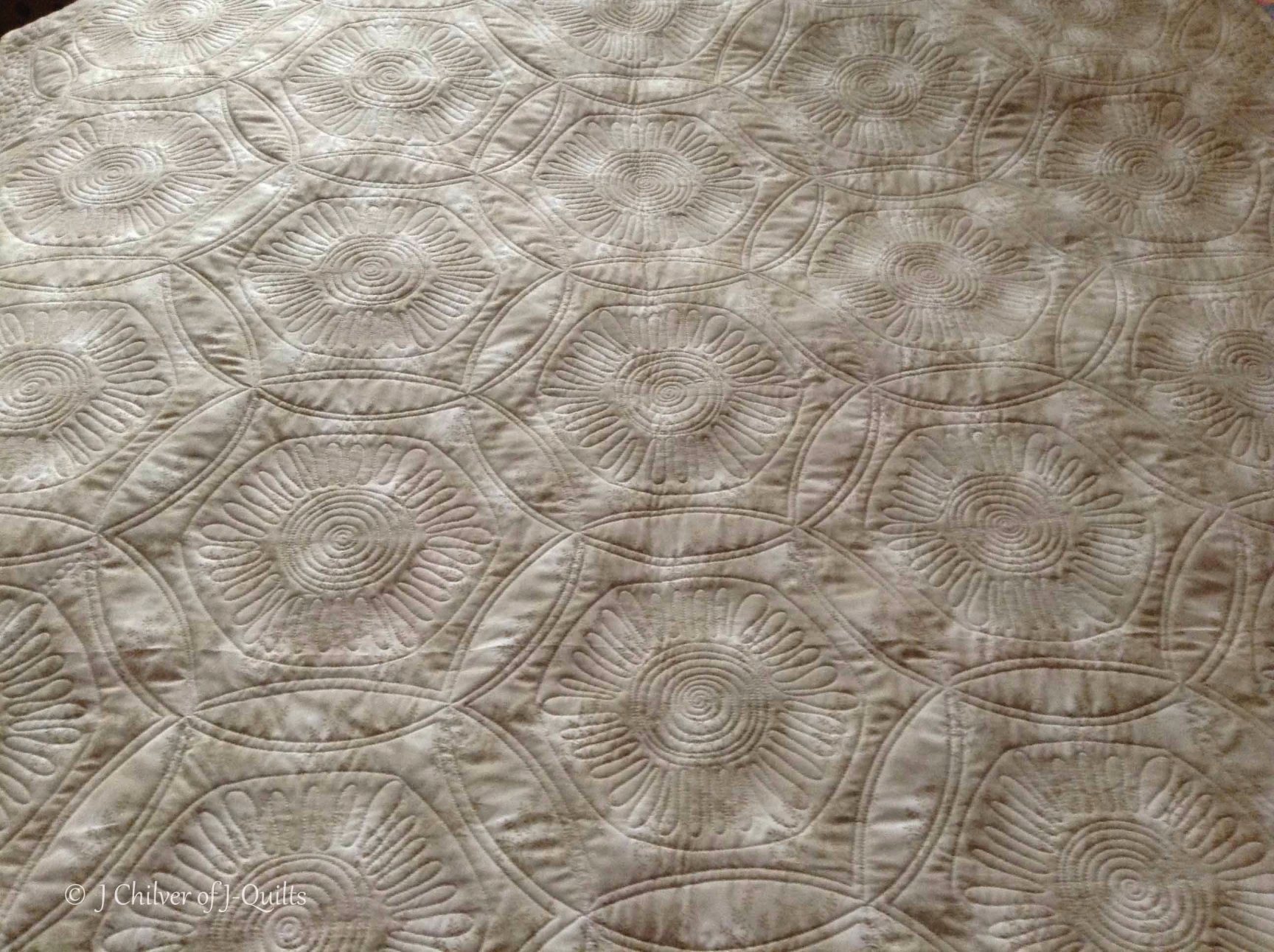 /