Shopping Cart
Your Cart is Empty
There was an error with PayPal
Click here to try again
Thank you for your business!
You should be receiving an order confirmation from Paypal shortly.
Exit Shopping Cart
This lovely blue and cream quilt was made a very long time ago, I am not entirely sure when, but it had been used and washed without a wadding liner for some time.  My customer was asked by a friend if she could help in bringing the quilt back to life as it was very sentimental to her.  So my customer added a border to it, fixed the quilt up, and bought it over to me for some quilting.
She chose the "Santa Ana" design, and cream thread.  She had also provided me with a flannel backing, and now the quilt is extremely cosey, and will last a few more years yet.  
I love a quilt with a bit of history.  It was hand pieced too.
I am sure that this will now be cuddled under and enjoyed once more.
This is a photo of it before it was quilted, and you can see it is a lovely quilt even before quilted.  I was asked to attach the binding to the front of the quilt (which is one of my additional services), so that my customer can hand sew the reverse

This gorgeous quilt was made by my customer Phillippa from clothing fabrics and reclaimed and rewashed fabrics I believe.  I quilted it with a variegated pastel thread which is a Rainbows thread by Superior threads and I used a sand colour in the bobbin thread,  the backing was a gorgeous soft blue flannel fabric and it turned out lovely and cozy.  There are lots of clothing fabrics from family so it makes it an extra specially personal quilt. 
Phillippa chose the thread and the "Santa Ana" quilting design which is quickly becoming another of my favourite designs.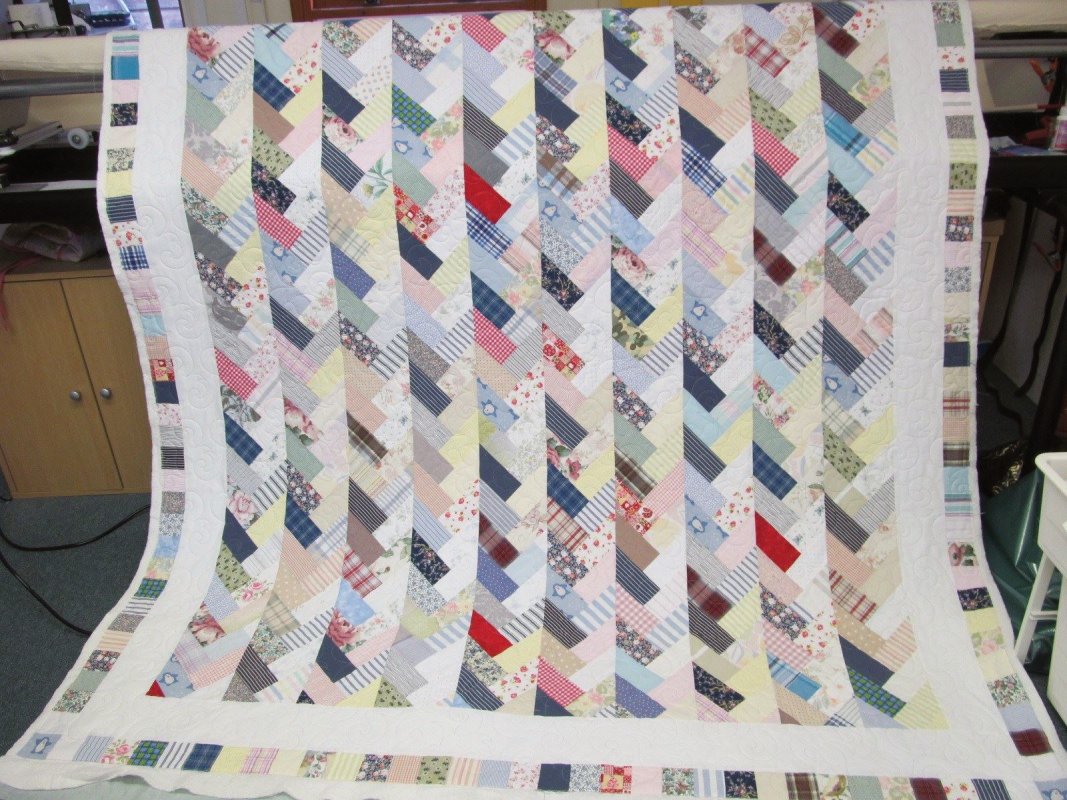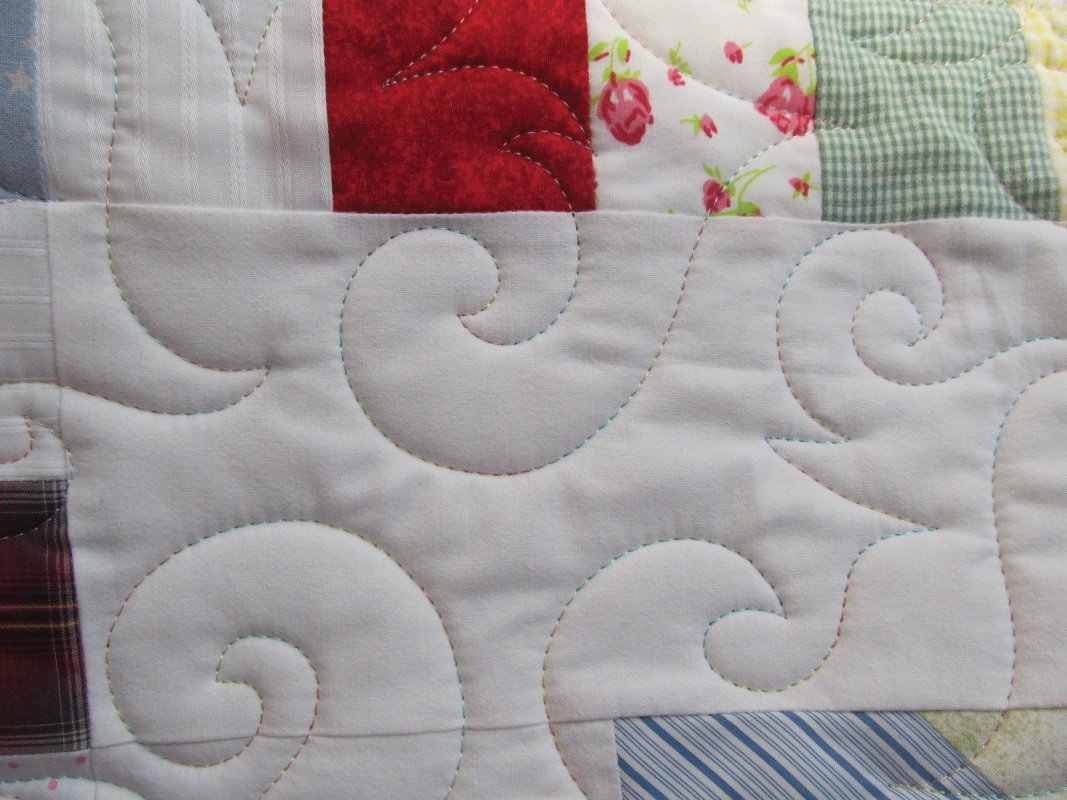 It has been a while since my last post.  I have been pretty busy,  so not much time to blog.  I just downloaded my camera and was pretty surprised how many quilts I have not added to my blog.  So I will try and catch up a bit in the next couple of weeks.

This one was made with the little black dress range of fabrics by Moda, and was beautifully made by Elaine.  I love this fabric range, and Elaine chose the the Santa Ana design with a pale silver/taupe thread which was a good choice against the contrasts of blacks creams and greys.   This design is quite elegant and fits well with the elegant blacks and greys. 

I quilted this quilt before I went away on holiday along with quite a few more which I have not yet posted photos of, but will post when I have recovered from "catch up" mode post holiday !!!  I am busy quilting though....  so I hope to post some more photos very soon.
This quilt was a first quilt made by my customer Muriel.  She made the quilt from a jelly roll, and I quilted it with the "santa ana" design with a mocha (light bronze) thread.  It has blended just beautifully over the quilt.  It is hard to believe it is a first quilt, as it behaved very nicely for me and laid flat while I quilted it.  This is always a good sign...  I hope that she goes on to make lots more lovely quilts. 
I am relaxing on holiday at the moment in Cornwall (I will be back to business on the 20th August) and am taking the opportunity to post some photographs of another customer quilt recently quilted.
This is a gorgeous friendship braid made by my good customer Helen, which she beautifully pieced with batiks and solids.  The green and lilac shades make a lovely combination.
Helen chose the "Santa Ana" design and a dark khaki thread which blends across the quilt colours just perfectly.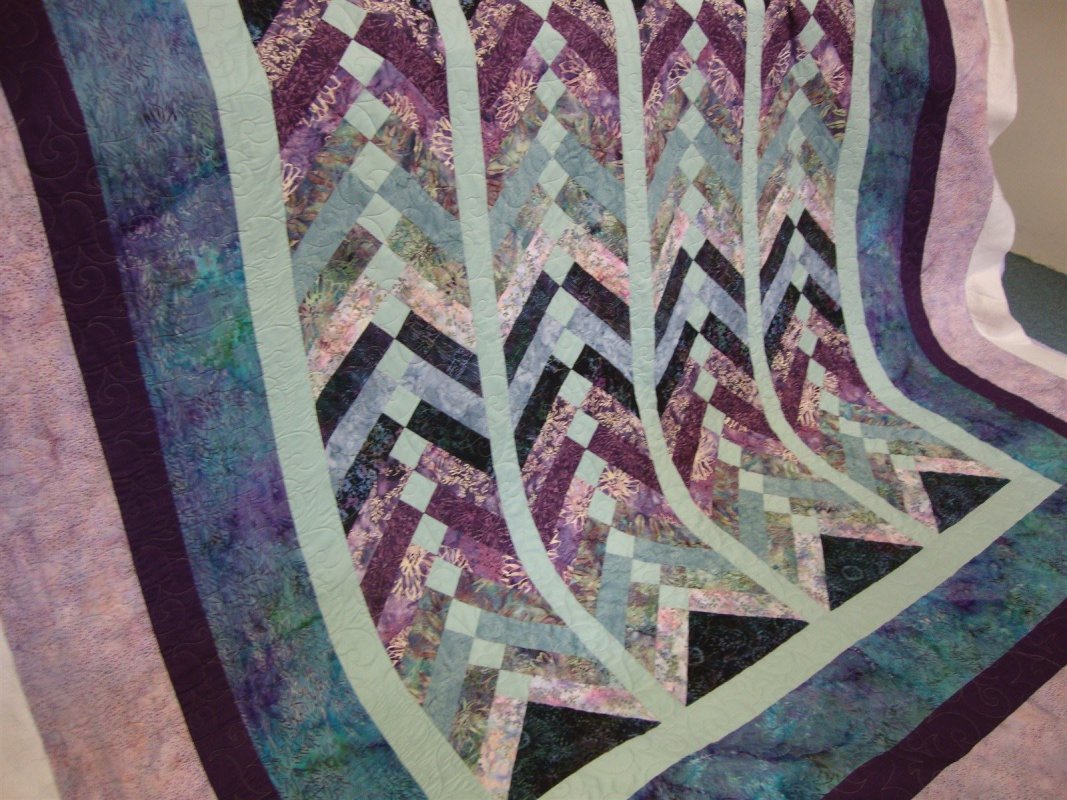 /