Shopping Cart
Your Cart is Empty
There was an error with PayPal
Click here to try again
Thank you for your business!
You should be receiving an order confirmation from Paypal shortly.
Exit Shopping Cart
Another  lovely modern and bright hexagon quilt made by my customer Denise, which I believe was using the same pattern as my previously posted quilt by Elaine.  This one was quilted with an allover "happy times" with a mustard thread chosen by Denise.  There were lots of thread choice for this one, as the golds, sands, and bronzes, all looked great.  However the mustard choice was a very good good one.
Denise has chosen to leave her edges in the hexagon shapes rather than adding the setting triangles,  which certainly adds additional interest to the quilt and will look great when it has been bound.  I love the butterfly fabrics too.
I have been busy lately quilting more customer quilts.  Just thought that I would share some more photos.
This gorgeous coloured quilt was hard to give back, as the colours are really me....  and it quilted up just lovely with a bright blue thread.   This I believe is going to be raffled - I also believe that it was a joint piecing effort headed by Madeleine Howard and Delia FFitch, and involved different members of the group they belong to each making a block.
I used "happy times" pantograph which is proving to be a very popular choice at the moment. 
I also found a full photo of Delias quilt from my previous blog post.  The colours are wonderful on this one too.
I have recently quilted this for a local quilt group who have generously donated their fabric and time to piece a quilt for the charity "Quilts of Valour".  I have quilted it with "Happy times" design, which is a simple but effective pattern and looks great on this large block design adding a great texture to the quilt. 
I love the shading effect of this quilt created with the paler shades or red/pink running through the light sections, it is quite effective.   
This gorgeous quilt is made with fantastic 1930's reproduction fabrics, which I absolutely love.  This has been made by a friend Peggy for a raffle to be held at a quilt show by Essex & Suffolk Quilters to be held in September at Alresford village hall.   I quilted it with "Happy times" pantograph which is a lovely simple design not detracting from the fantastic piecing.  The squares in the middle of the stars are only 1 inch !!  I will be buying a few tickets myself.......  As you can see it looks great on our bed.
If you want to buy a raffle ticket (or two or three) then please let me know and I can give you details of where you can buy them.
The quilt show  will be displaying lots of quilts (including a few of mine hopefully) it is on Saturday and Sunday 28th and 29th September and I will detail more about on my website very soon.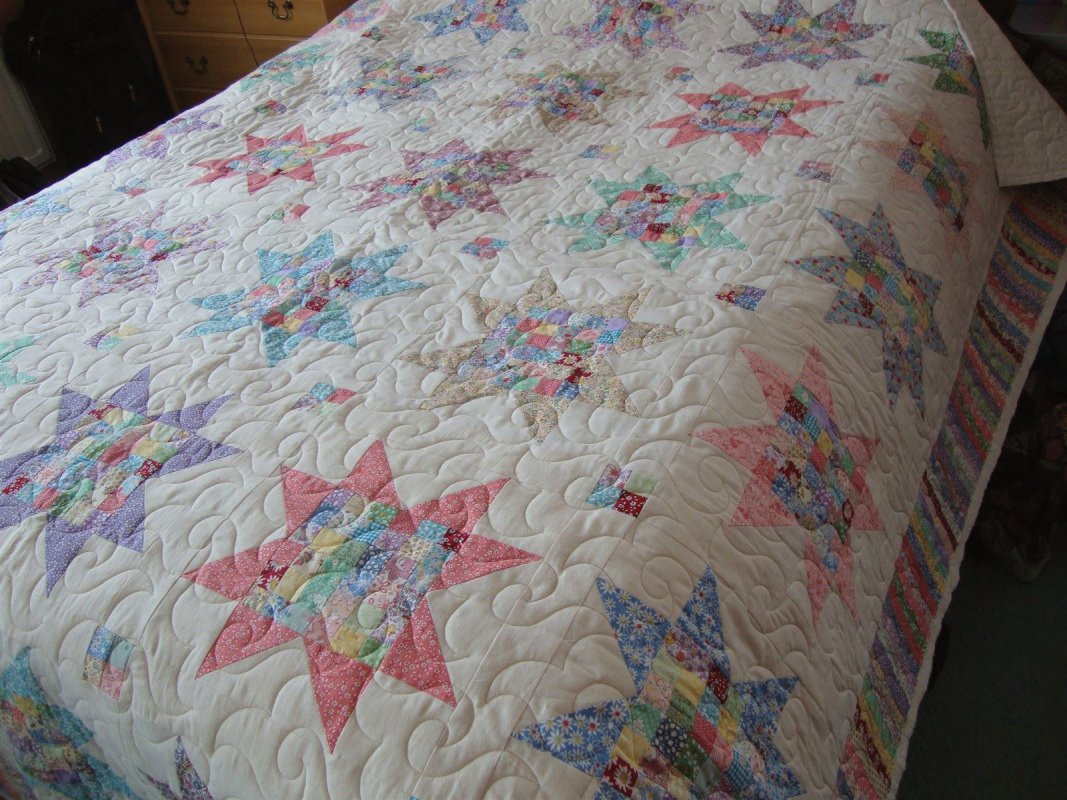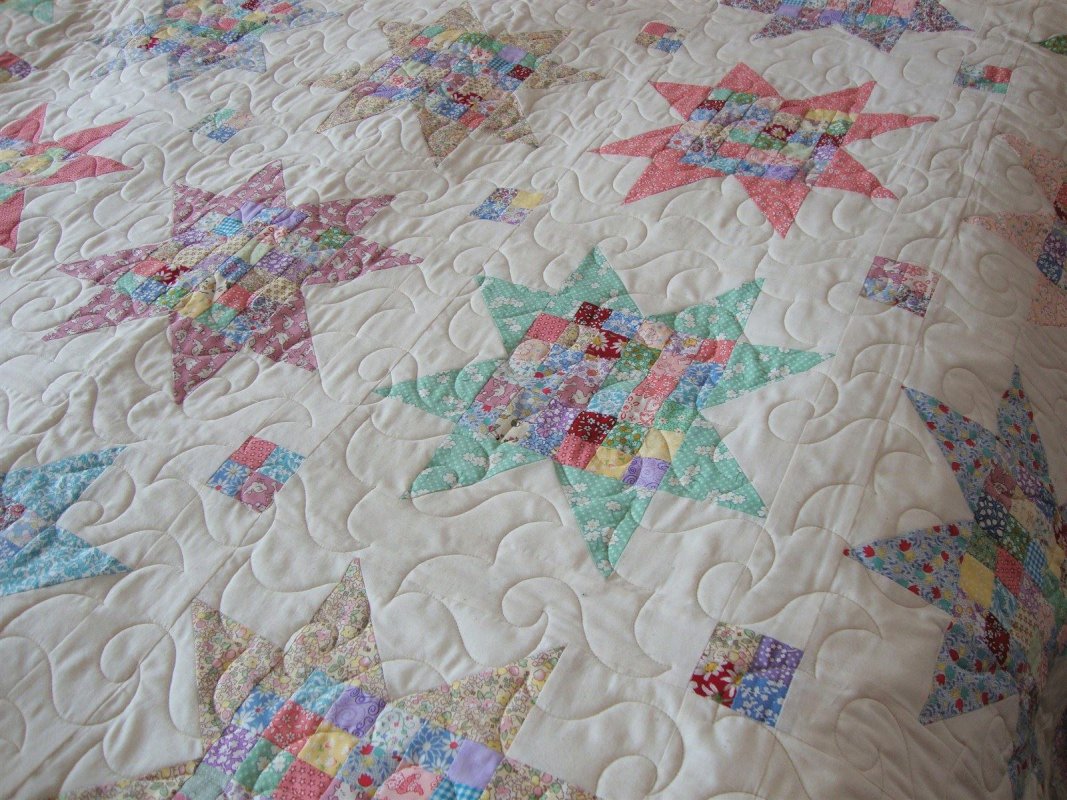 /