Shopping Cart
Your Cart is Empty
There was an error with PayPal
Click here to try again
Thank you for your business!
You should be receiving an order confirmation from Paypal shortly.
Exit Shopping Cart
This lovely quilt was made by Denise in the lovely Vintage modern fabrics by moda.   She has created a very effective quilt with the red and turquoise in a jacobs ladder format, the lights and darks play very nicely together..  I fell in love with the border fabric..  I am not sure if the range is still available, but I have a little stash of some fat quarters somewhere when I get round to using it....

I quilted it with a turquoise thread with the poppies design, and it has turned out just lovely.
This lovely fresh coloured quilt was made by Annie, and she chose the "poppies" design, and a sandy gold coloured thread.  It looks very pretty, I love the fabrics in this quilt too, some dusky mauves and pinks really look great with the yellows and greens.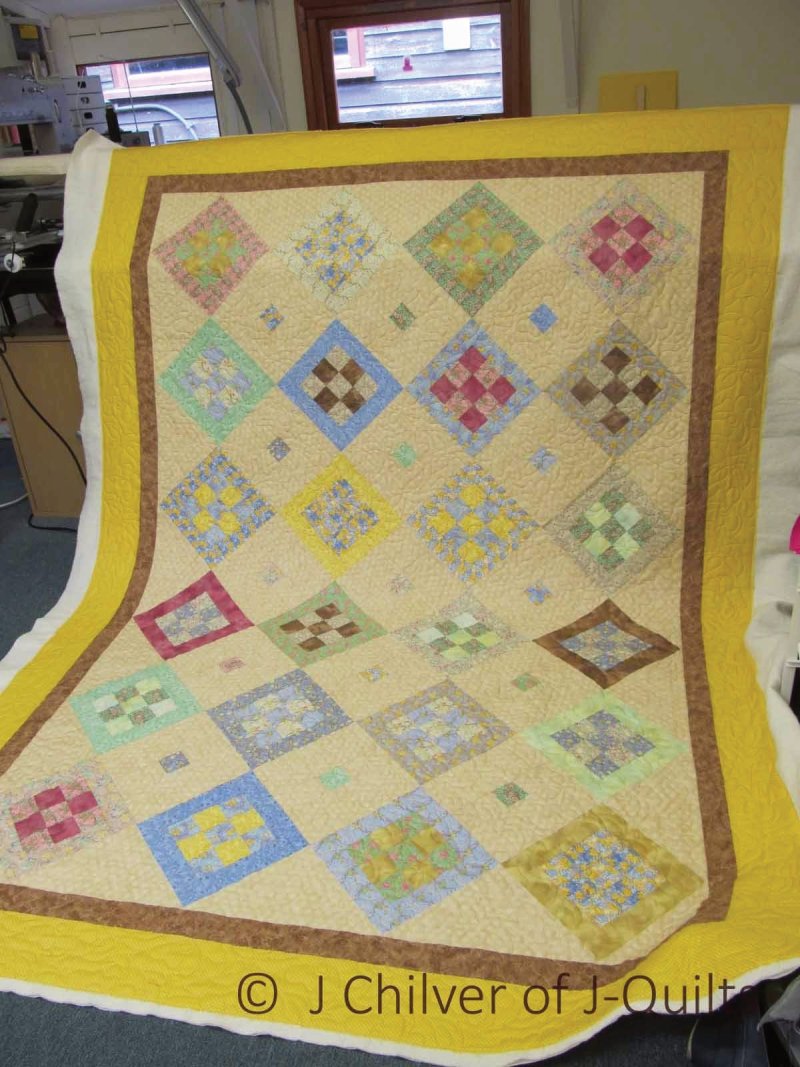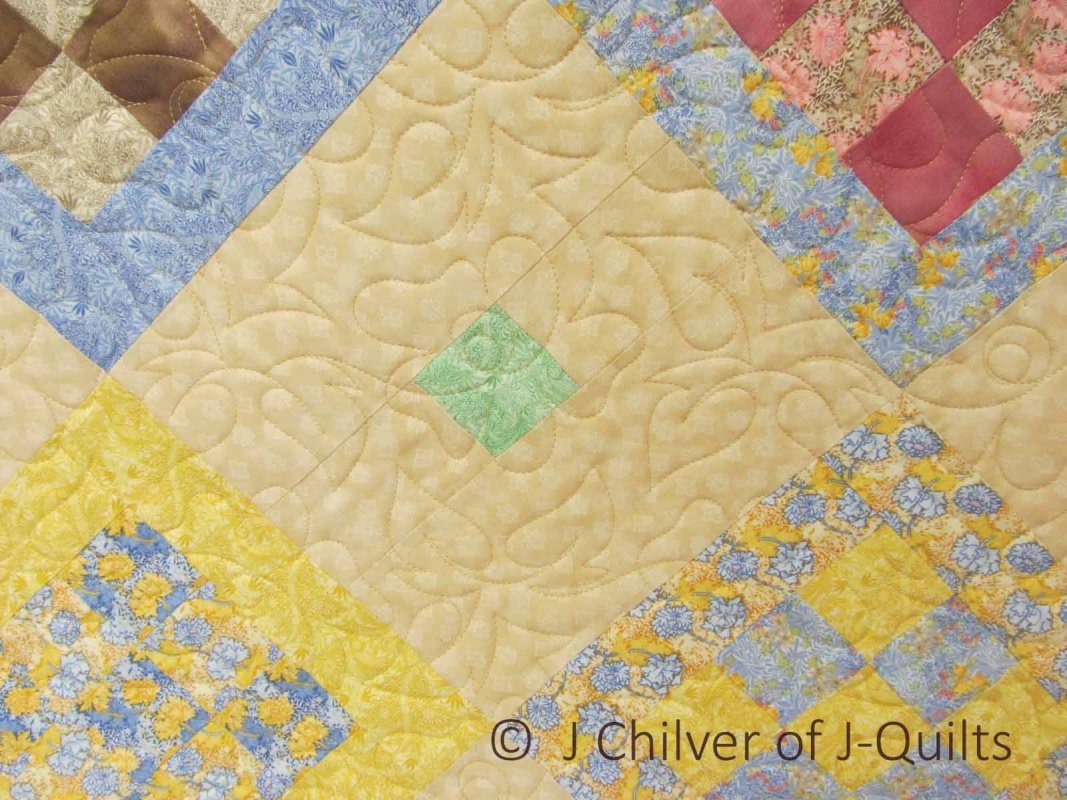 I love seeing what other quilters come up with colourwise,  actually I think I made a mistake with a colour choice on a personal project, and the quilt I have been piecing is turning out to be way too green (which isn't even actually my colour !!! )  it was just the only solid colour fabric I had to hand in two shades of a similar colour which is what the pattern called for...  maybe I can add some different colour quilting theads when I finally get around to quilting it in the future, although I fear it may sit for a long time in my UFO pile....  LOL..  I am sure it will look a whole lot different once quilted.

Actually the whole process of making this one has been disappointing, as the pattern from one of my longarm quilting idols in the states, was a bit sparce on instructions I felt,  the fabric requirements were wrong, and the diagrams misleading, leading to a couple of mistakes early on, but now I have adapted it and ironed out the pitfalls and square up etc, I will probably make another one in the future - but not green !!!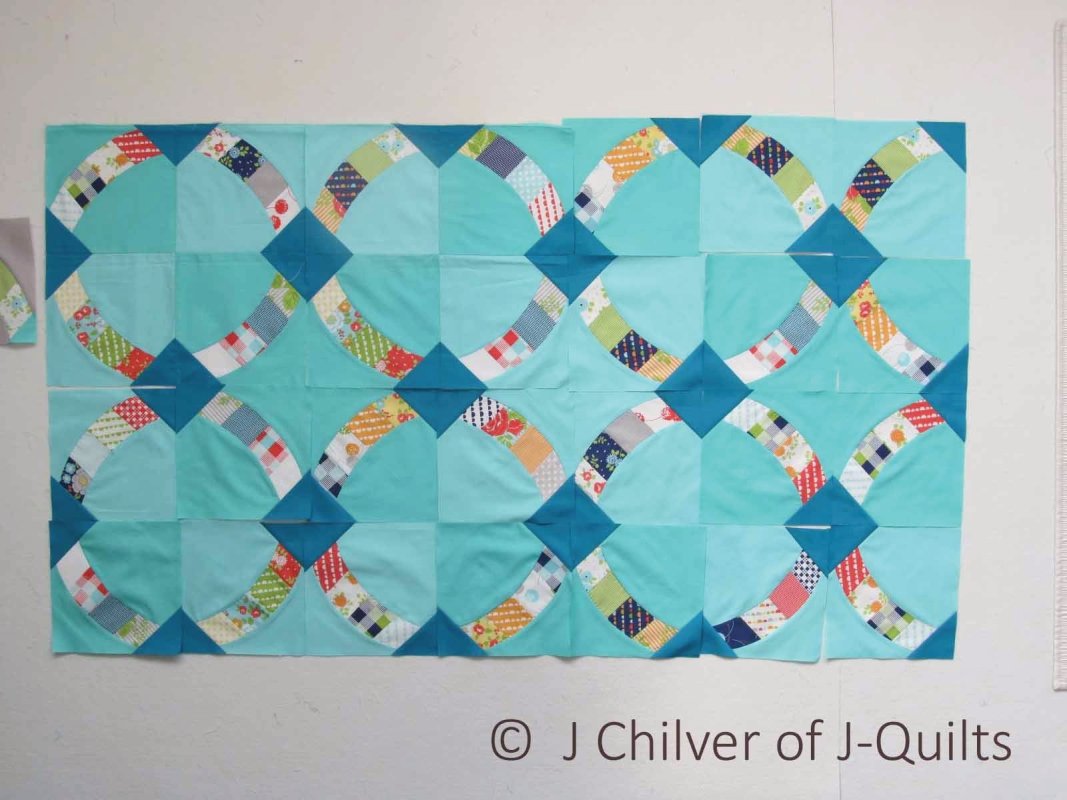 Cynthia is one of my students who attended my patchwork for beginners classes back in November as a refresher course because she has some previous experience from other classes too.

Here is the class project which we worked on which she decided to make slightly larger than the class project.   It is a simple square in a square design which is an ideal starting project.

Cynthia chose to have her quilt longarm quilted using her student discount which I offer to my students if they don't wish to finish quilting their quilt themselves.

She chose "poppies" and a copper coloured thread.   I love her choice of colours which look fab.  Well done Cynthia on a well made quilt which quilted out just lovely.

This beautiful quilt was made my Norah, and was pieced perfectly flat and square.  It was a pattern in one of the Jelly roll books by Pam and Nicky Lintott.
I know I recently mentioned that I was not a huge fan of variegated threads, however I take back my comment, and love the variegated thread on this quilt.  Norah brought me some thread with her quilt top, which was "rainbows" by superior threads in "seashell".  I have not been keen on this particular thread, as every time I have used it previously it has had a tendency to break alot and have tension problems,   however, on tightening my bobbin tension, it ran perfectly.  
This quilt is a small sample quilt of mine that showcases the "poppies" pantograph, which I have quilted with a variegated thread in reds, blues, greens and yellows. 
I love the poppies panto, and although I am not really a big fan of variegated thread,  I am pleased that it does look OK and I certainly want to experiment more with some fantastic threads available - this one is by superior threads called Rainbows.  Sometimes I feel that a variegated thread "breaks up" the quilting design, but a bright variegated thread does look great on dark fabrics especially black.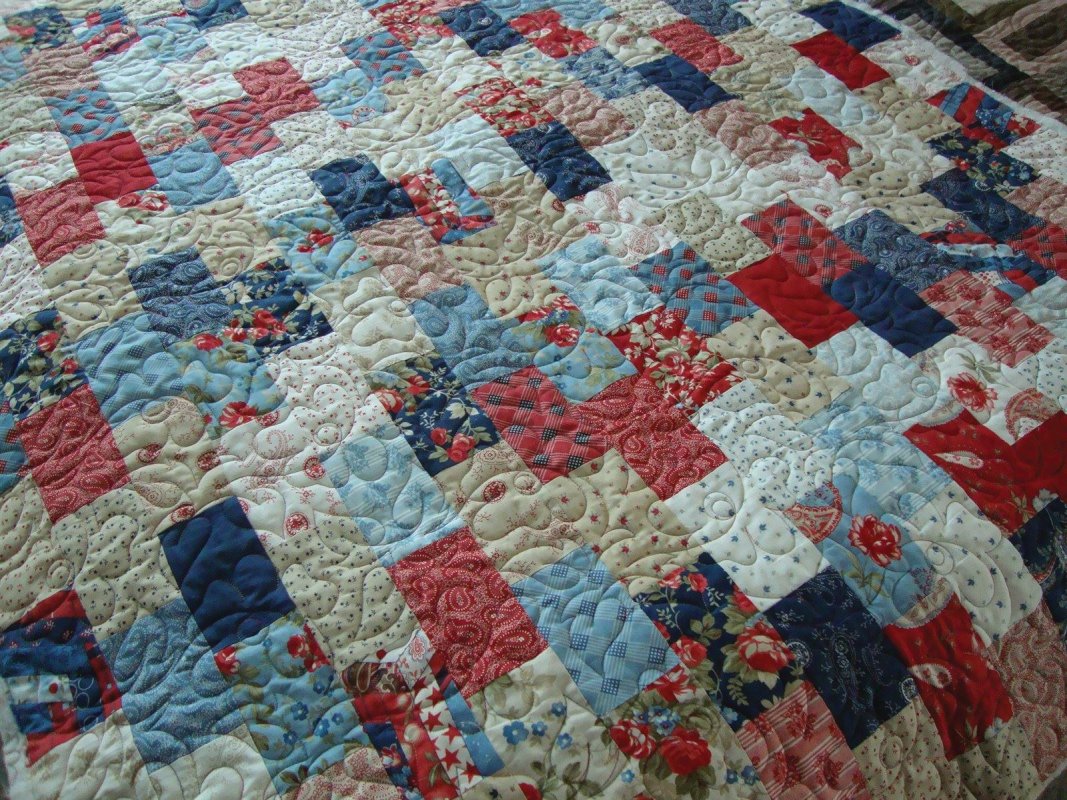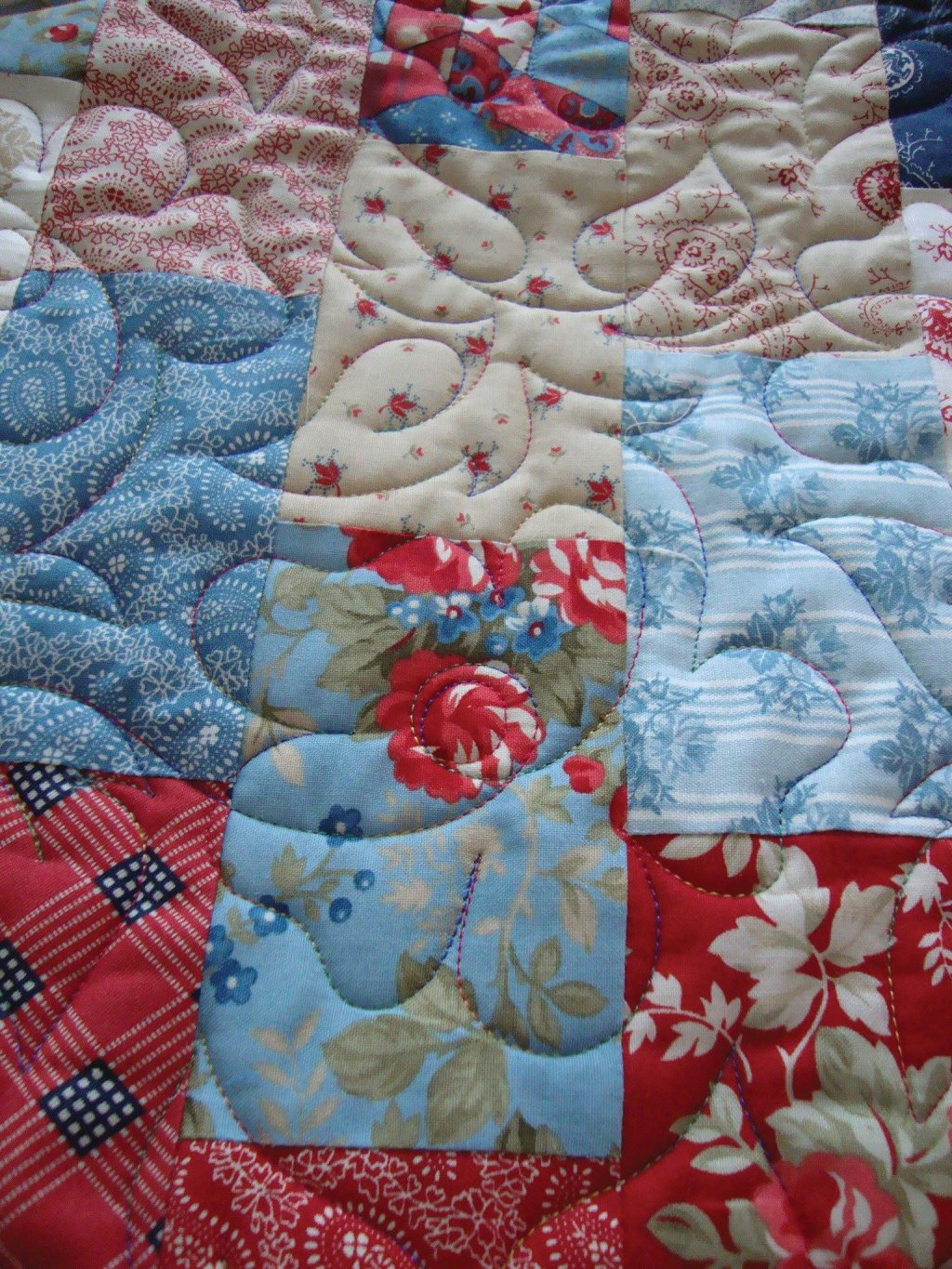 Recently I also found this great company in the US
www.spoonflower.com
 who will print your own fabric from any digital design, which basically means that you can design your own fabric, so using a photograph of one of my quilts overlayed with my name and addess details,  I ordered some labels to be able to attach to the back of my quilts dating and detailing my quilts.  Something I confess that I have never really done before as most of my quilts are either on a bed, or a sofa or in my studio for a sample, or have been given away...  next time I order them I will make them a little larger with more space inbetween so that I can either piece them into my backing, or needle turn applique them onto the back of my quilts.  At the moment they have a fusing strip around the edges, but the fabric has frayed a little more than I expected that it would..  fun though.. and I can see lots or other ways of using this service other than for labels.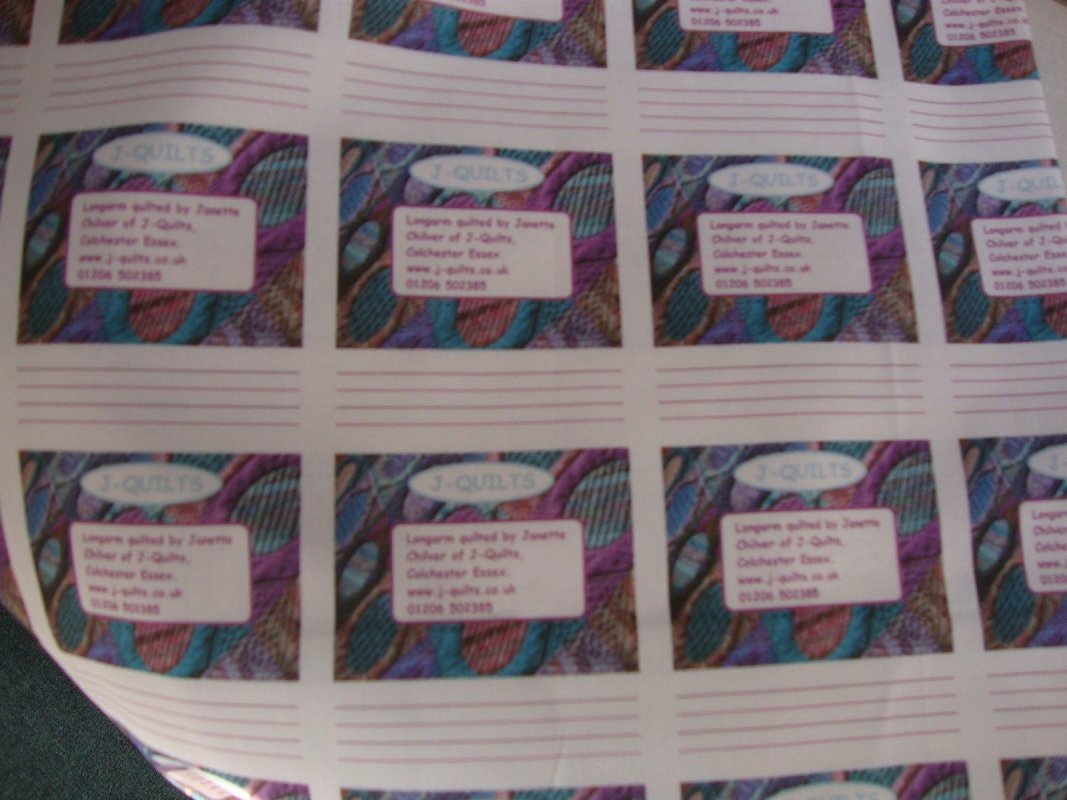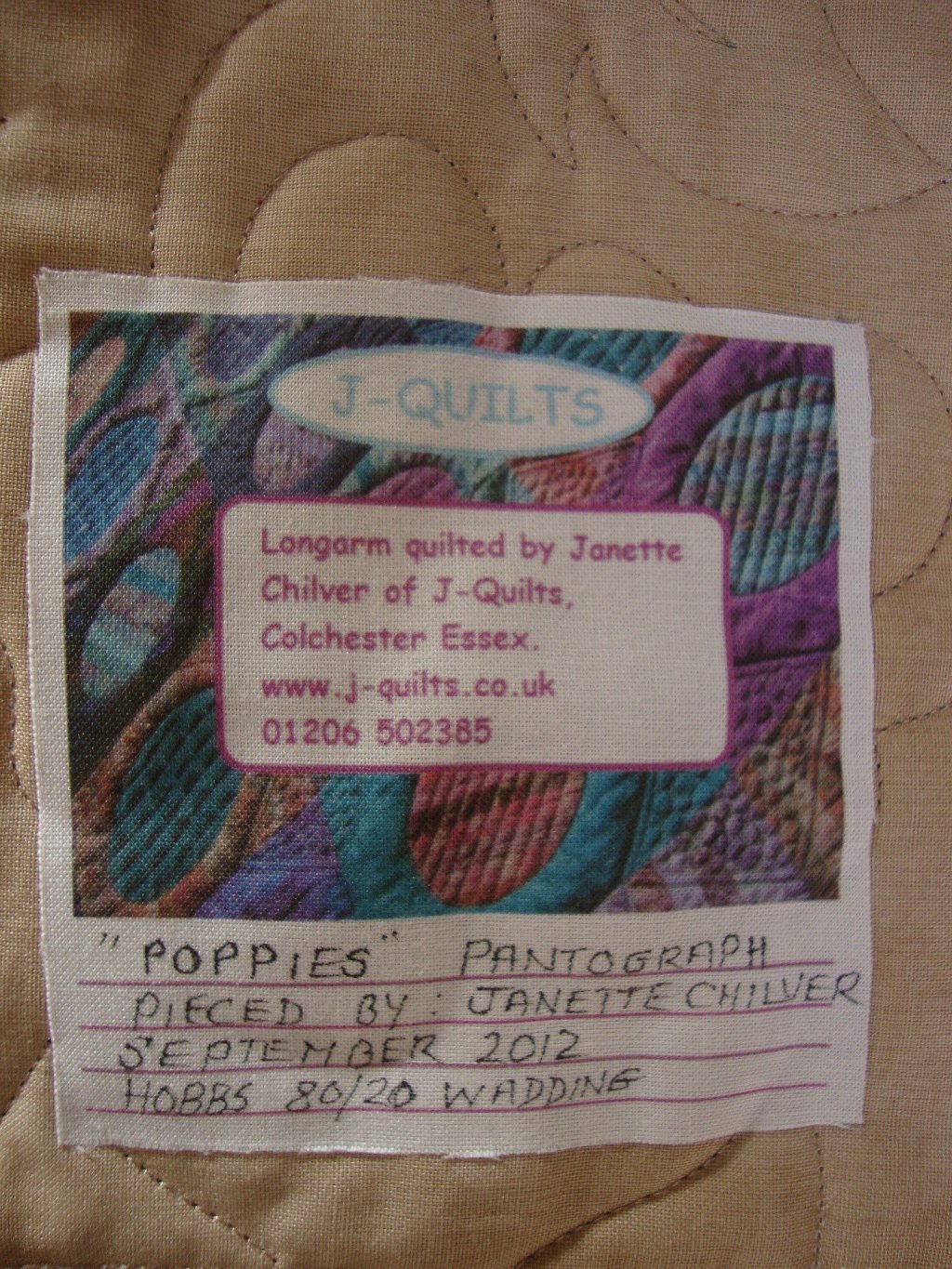 "Poppies" design was chosen along with Sand coloured thread which blends just right across the fabric range of colours used in the quilt.
This was the first time this "poppies" design has been chosen by one of my customers,  it was one of the new designs which I recently imported from America (You can't buy pantographs in the UK unfortunately and of course they are very popular in the US) and it looks great - even if I do say so myself....
Nicola didn't want a custom background quilting fill on the embroidered blocks but rather an allover look to the quilt which she prefers the density of.  The background fabric chosen was a beautiful cream on cream Moda paisley and the backing looks just as great.  I love the way that an allover design could be used in reverse too.  (If you ever wanted to of course...)  In fact I hope to quilt myself a gorgeous cream or white (top and bottom) quilt for our bed in the summer....  I think this design in particular would look great on white fabric.  Oh and while I am at it, maybe matching pillow shams too.....
/