Shopping Cart
Your Cart is Empty
There was an error with PayPal
Click here to try again
Thank you for your business!
You should be receiving an order confirmation from Paypal shortly.
Exit Shopping Cart
This lovely quilt was made by a new quilter and this is her second quilt,  friendship braid quilts are difficult to master for a beginner due to lots of bias stretch, but Jo has made an excellent job of making this quilt for her daughter.  I have quilted it with the Alfresco design and a cream/pearl coloured thread.
It is such a fresh lovely quilt and as it looks so great on my bed I really must make myself another friendship braid quilt...  the one I already have made is in very dark colours and would look great in some brighter fabrics...
This gorgeous quilt was made by my customer Julie in delicate pinks and creams.  She chose the lovely Alfresco design, which is a nice rounded flower and leaves design, which is a great scale for larger quilts.
This is a gorgeous design which I believe was pieced in classes with Lynne Edwards.
Julie chose a nice cream thread and a cream moda paisley backing fabric.  With such a delicate quilt, you need a delicate coloured thread too.  I would love to see this photographed on a lovely large bed as I am sure it will look fab. 

There are only four different fabrics used in this quilt, and it looks lovely.  In fact the pale colours were difficult for me to photograph in my studio, but the one photographed at home (the bottom photo) where the light is much better shows the quilting off alot better.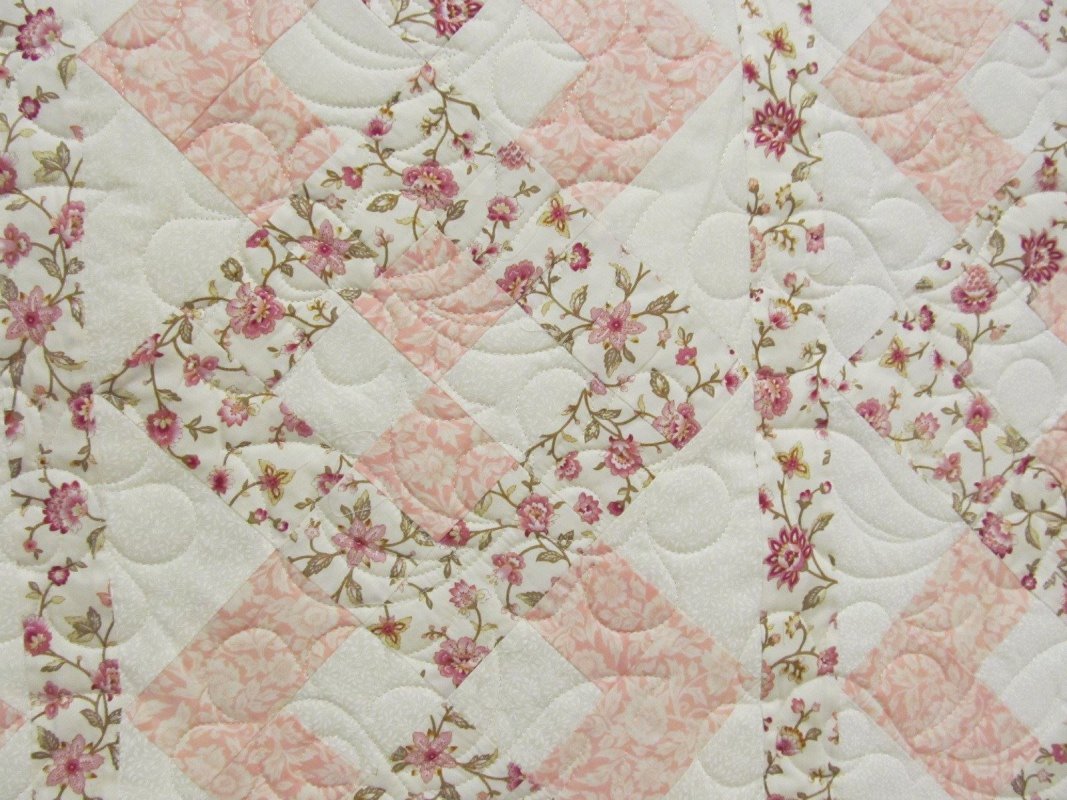 This lovely quilt was left with me a few weeks ago before our holiday (which feels like about a year ago now !!)  so it was a bit longer than normal in my possession until quilted.
It is made by my good customer Nicola, from a moda range of fabrics by fig tree I believe, there are some gorgeous peachy colours.  Nicola had set herself a stitchery challenge of completing a panel every night for about 35 nights, and made the sweet little stitched sayings which always add a special something to her quilts.  Maybe one of these days I will get out my pearl cottons and have a go... 
Nicola chose the Alfresco quilt design, and a peach coloured thread to blend best over the little stitchery panels so as not to over power them.  In the case of a custom quilting job, these panels would more often than not be stitched around rather than over if that was my customers preference.  Nicola does not mind her stitchery being quilted over, and we make sure to choose a subtle thread colour taking the background colour of the panels into account. 
Her dark brown backing fabric shows the design up very well with the peach thread which looked great too.
I quilted this quilt which was beautifully made by Liz from a Thimbleberries design.  Liz chose the Alfresco quilting design for her quilt, and a blending thread.  I was very pleased with the finished results, although more importantly Liz was too.
The Alfesco design is quickly becoming one of my favourites !
I really must get to posting some photographs of recent quilts, but I have been busy quilting them.
This gorgeous quilt is a lovely fresh and bright design by my customer Denise, who chose the Alfresco design with a bright pink thread.  I always love how this design quilts out and looks so different on many different style quilts.  I wish that I had taken a better photograph of the whole quilt top though as it was such a pretty one.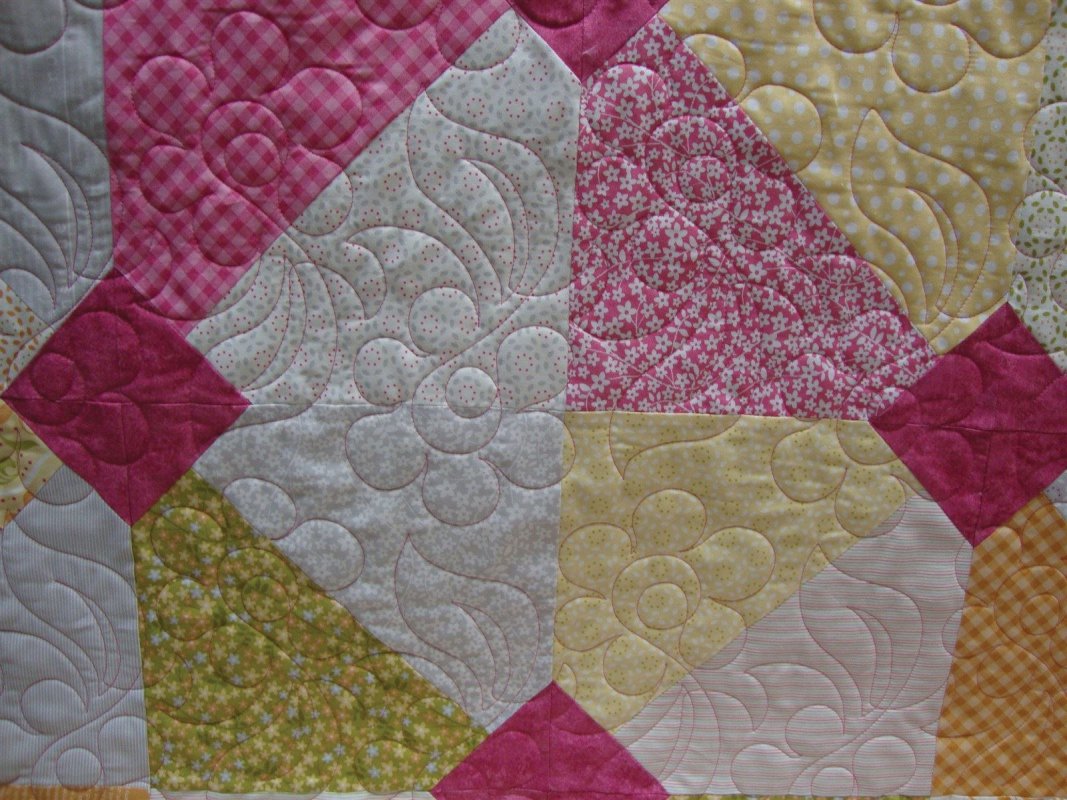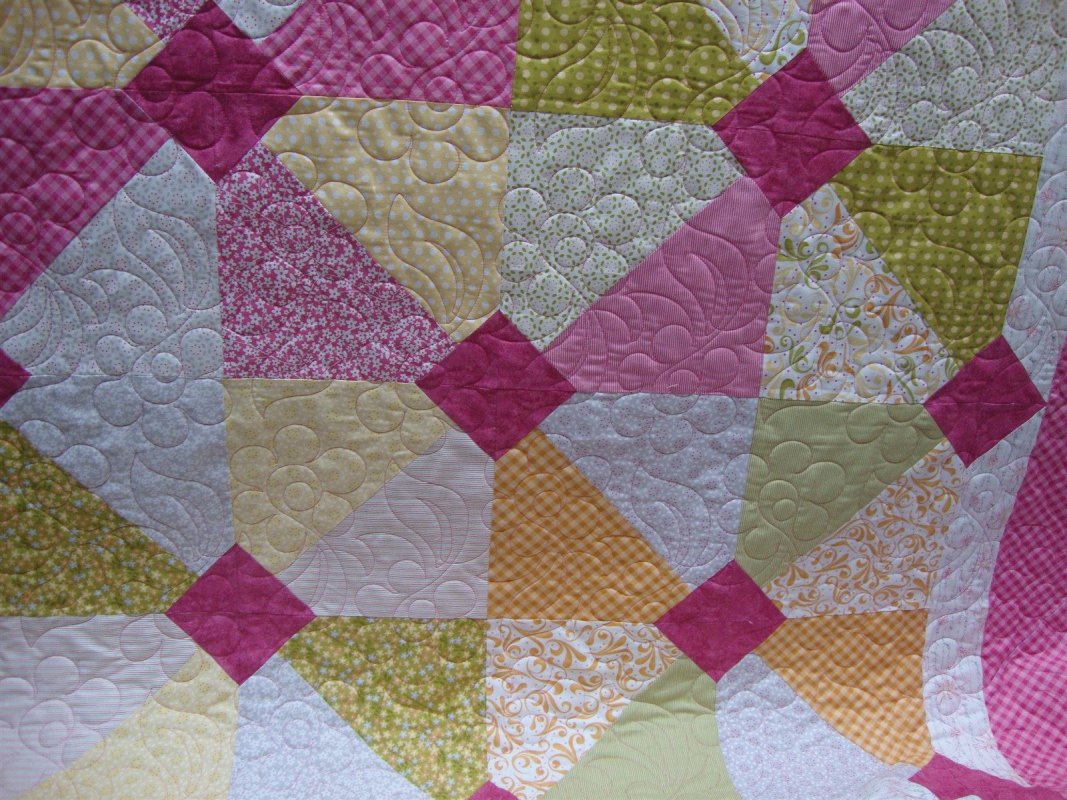 I have had a 3 or 4 metre piece of fleece in my "stash" for a couple of years now, and have always intended it to be longarm quilted into a double layered fleece throw as an experiment more than anything, well today I "found" the bag containing the fleece whilst quickly tidying up a shelf, and decided to make it into a finished project and free up some shelf space too.   I thought it would make a nice throw for my sofa in my studio, and a sample of the Alfresco design to show customers at the same time.  You would not believe though that I used a bright green thread on this (I have a cushion on the sofa which is pink and green striped if you are wondering why bright green)  I was quite disappointed though that the thread has just completely disappeared into the fleece pile and you can't see the colour.  I used my largest stitch length and loosened up the tension, but still I can't see the stitches.  The quilting definition though is great and the design scale is also nice and open.  Quite often I have requests that the quilting not be too close together, and some of my new pantographs have these requests in mind.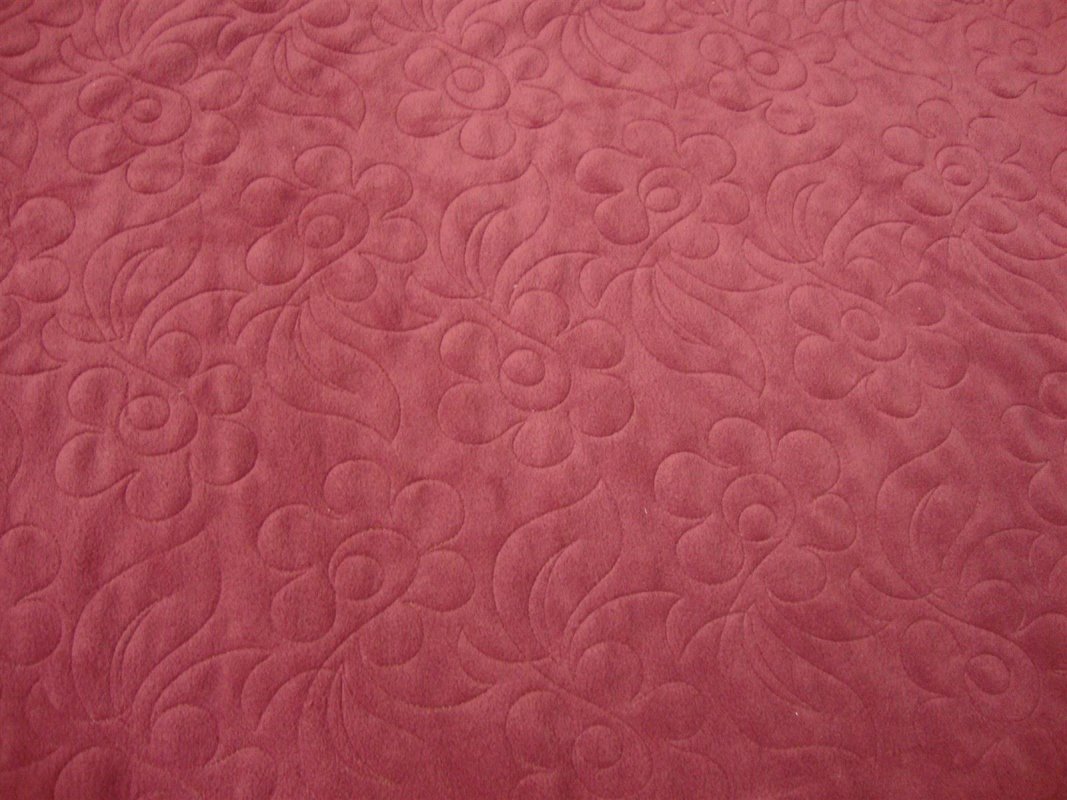 I brought it home to bind at a later time, and already my youngest has been snuggling under it all night staking his claim to it despite the flowers, and already requesting his own fleece quilt with a boys design.......  I didn't add any wadding inbetween the layers, and I am glad that I didn't as it is quite warm and fairly heavy as it is.  I may try one with wadding to see if the stitches are more noticible.
/