Shopping Cart
Your Cart is Empty
There was an error with PayPal
Click here to try again
Thank you for your business!
You should be receiving an order confirmation from Paypal shortly.
Exit Shopping Cart
My new customer Nicola brought me 4 quilts a few weeks ago now, and I have been a busy bee quilting them for her. 
Following on from my previous post, the "Tickle" pantograph does looks great on a smaller quilt too.....  I love purple especially purple batiks.  It has reminded me about my purple batik quilt, which is on our camper at the moment, I will have to post some photographs of it soon, which was actually my first quilt I ever quilted with my longarm machine. 
The next one has some lovely hand embroidered sayings worked into a couple of the blocks.  The quilt is pieced from a Moda layer cake called "Bliss" and has been quilted with the "Bush berries" pantograph.
I completely agree ......
This beautiful one, has lots of hand embroidered blocks, and some gorgeous appliqued butterflies and flowers.  This must have taken quite some time to make.  I have quilted it with the "Hearts in bloom" design in a very subtle silver thread. I always feel that my photographs never truly reflect the beauty in some quilts, this is one of them.  I really love it.  I believe that it was either a block of the month, or a kit. 
I will save photographs of the 4th quilt for another post, it is another great quilt.
I finished this large quilt for my customer Jeanne a couple of weeks ago now, and I just love the bright, happy colours in this quilt.  I think it was about 84x124 as Jeanne wanted it to be large enough for a pillow tuck, and to reach the floor all around on a single bed.
Jeanne had already chosen the "Tickle" pantograph design directly from my website and left the thread colour choice to me, (this was an order arriving in the post) and I chose a lovely muted gold which blended very well across the whole quilt - not wanting to fight with the bright colours in the quilt.  I had considered a peachy orange too and I think both colours would have looked equally as nice, so as I couldn't decide I laid the two colour choices and walked away from the quilt for the day, and when I came back into my studio the colour which I thought looked the best was the gold, sometimes it is good to see something with fresh eyes, but usually first choices are the best choices instinctivley.  So gold it was.
This design seems to be often overlooked when being chosen for a quilt pattern as it appears to be large scale however it looks just as nice on a smaller size quilt as you will find out in my next post.
Jeanne phoned me to let me know how beautiful she thought her quilt had turned out.  I just love it when I make a customer happy.  A happy customer to match a happy quilt.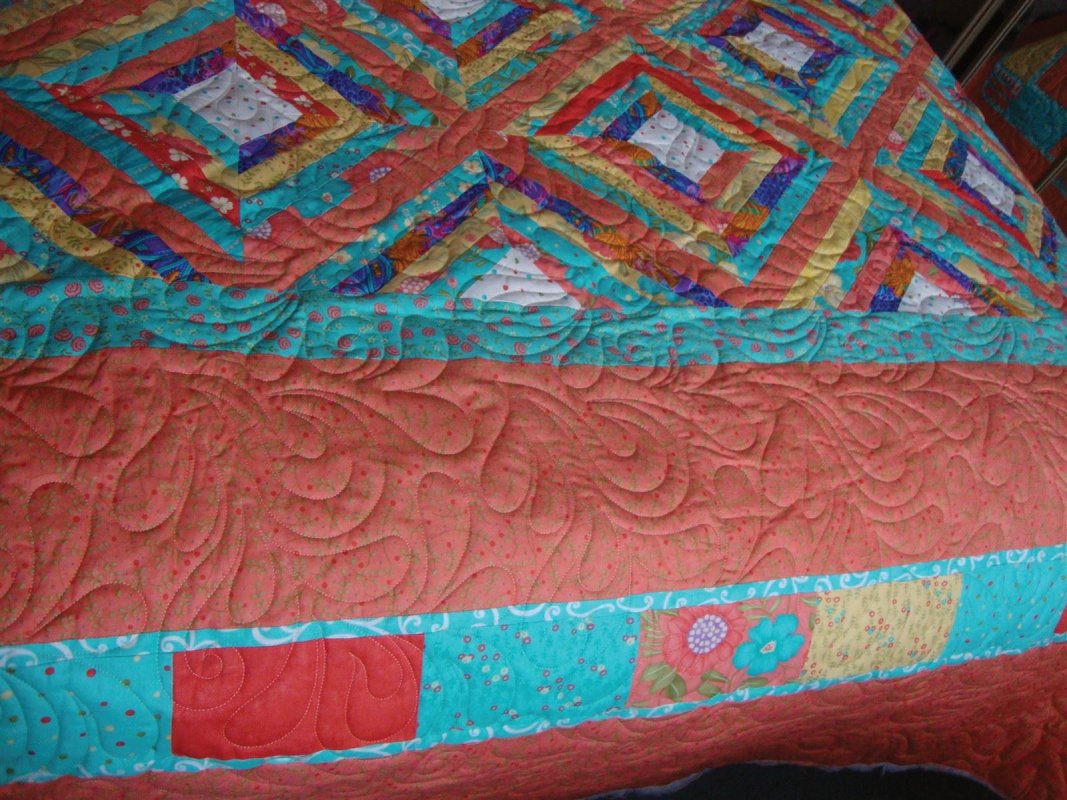 /