Shopping Cart
Your Cart is Empty
There was an error with PayPal
Click here to try again
Thank you for your business!
You should be receiving an order confirmation from Paypal shortly.
Exit Shopping Cart
These two lovely quilts were made by Marion, and were made in sewing classes with Elaine at Sew Creative in Bury St Edmunds.  There are some wonderful classes being taught there.
This one is a gorgeous friendship braid quilt which I absolutely love in purples, the shading and gradations are perfect.
Marion chose "Debs Swirls" design and I quilted it with a coffee coloured thread blending beautifully.
Some finished customer quilts.......
This was pieced my Nicola, and had some gorgeous appliqued birds and hand embroidered panels.  Some of the pieced squares in this quilt are only 1 inch square.  I used a lemon thread and "Debs swirls" design as an allover pattern.  I made sure first if Nicola wanted the applique to be quilted over or around before deciding that she was happy with an allover design.  IIt turned out great, adding lovely subtle texture and finish to the quilt, without overpowering the applique.
The next quilt was pieced by Jackie, and is a gift for her daugher who loves dragonflies, so she had already chosen the "Dragonfly pond" design from my website before posting the top to me to be quilted.  My camera seems to hate photographing purples and never makes the colour look true to life.  This has been pieced with 9 patch blocks and snowball blocks, and I have quilted it with a dusky pink/mauve thread which was chosen as an inbetween shade between the purples and pinks and the creams in the quilt.  Also taking the backing fabric colour into account which was a dusky pink/plum.
A lovely design which turned out beautifully.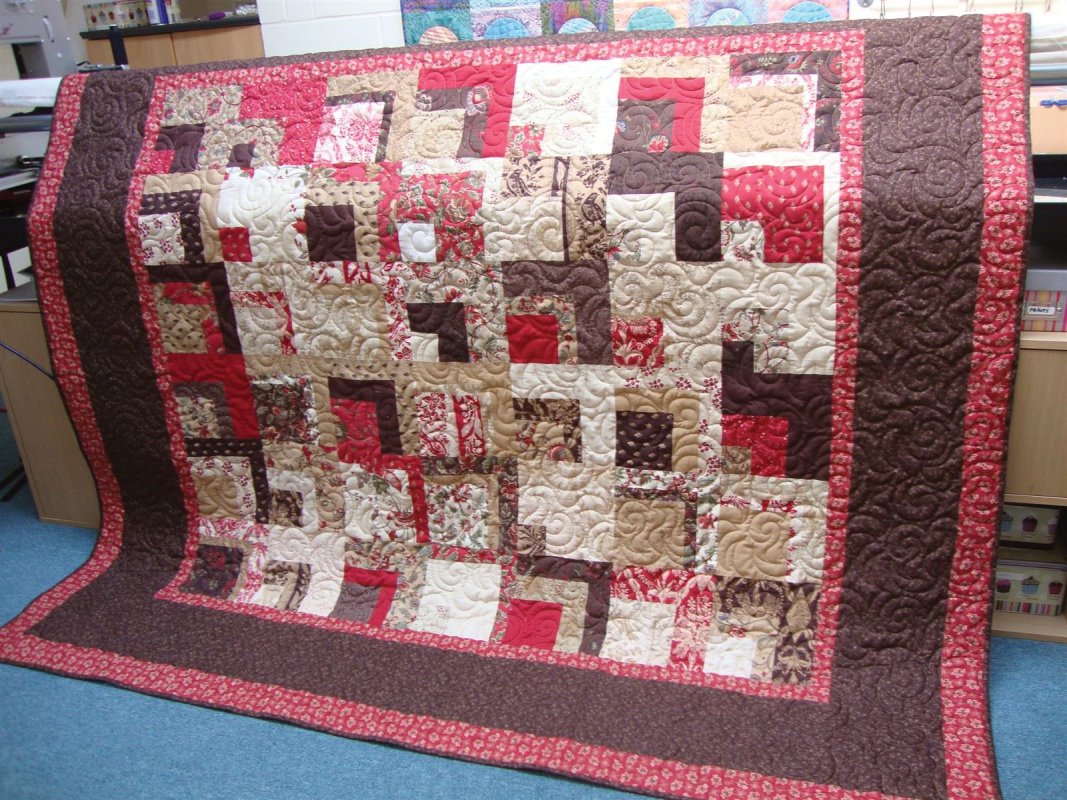 This is the rather lovely quilt that I delivered back to its owner at the Chilford quilt festival on Friday last week.  It was the first time that I had met Jenny, although I have quilted a previous quilt made by her which she sent to me in the post and that I returned in the post . As we were both headed to Chilford anyway, it saved on the additional postage cost.  It was so nice to put a face to a name too.
Don't you just love Autumn coloured quilts?
The pantograph chosen for this quilt was "Debs swirls" and I used a copper thread, which blended in beautifully across all the rich colours.  I can hardly believe this is only her 2nd quilt made.  It was as square as can be, and laid perfectly flat.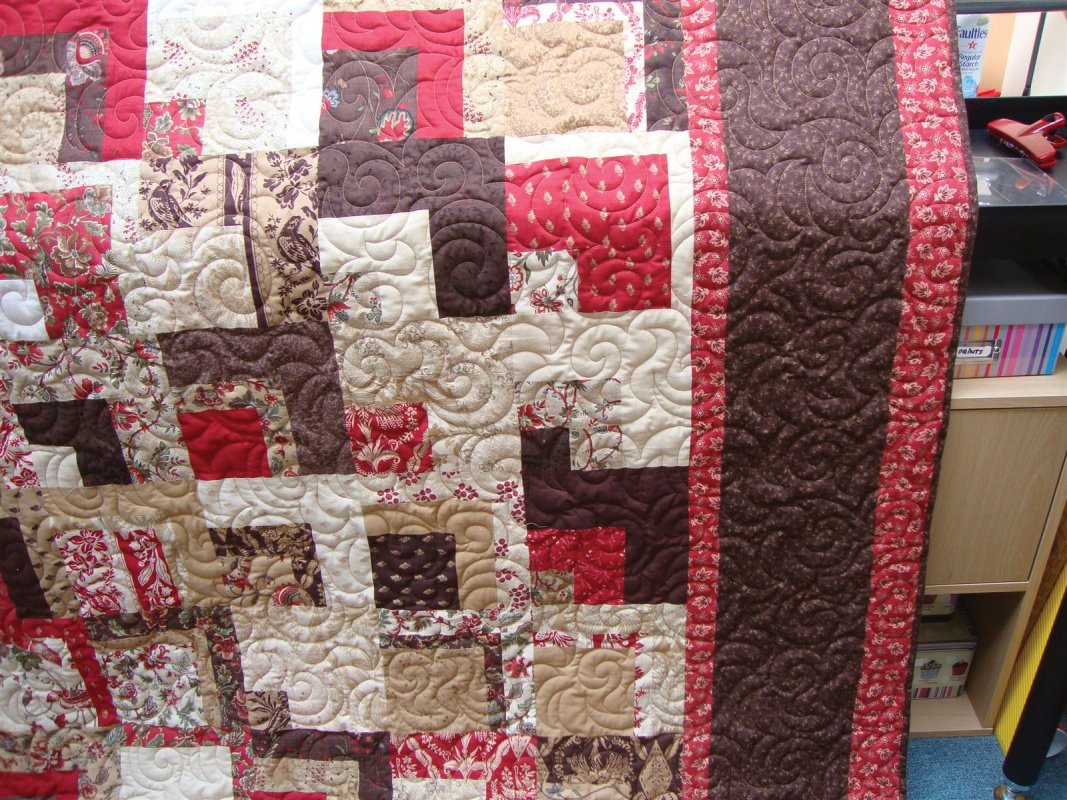 You can see the quilting better with this closer up photograph. 
              I just love the swirly designs.
And can you believe that this was only her 1st quilt made?  I quilted this for her earlier this year with the "Hearts 'n' roses" design.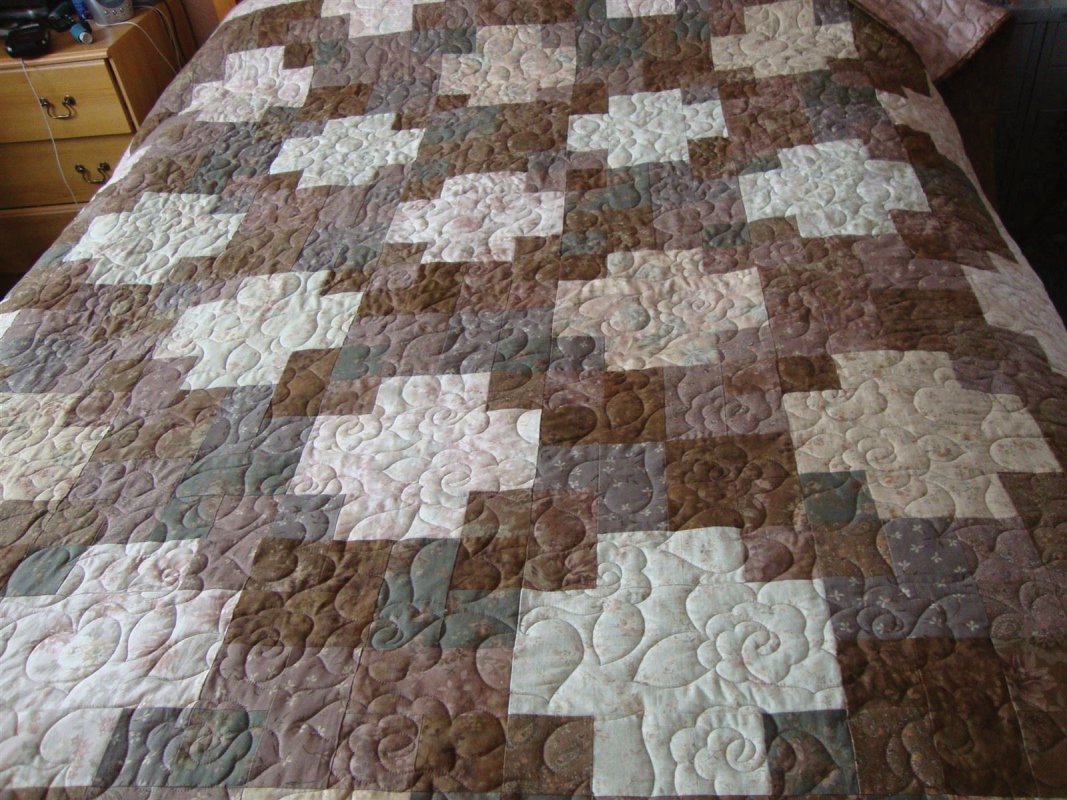 I love quilts with white backgrounds, they always look so fresh and bright !!!  This quilt belongs to Jan, one of my customers who chose some really soft pastel coloured fabrics aswell as various white on whites  which has resulted in a very pretty quilt.  Aswell as the soft fabrics, she hand embroidered flowers in the white blocks in a thicker embroidery thread which I feel really makes this quilt.  I discussed my concerns with her about quilting over the embroidery, not knowing if my hopping foot on my machine would catch and pull the threads or not.  However we agreed to try it because she preferred an allover design, and it worked perfectly, I did not experience a problem at all, I slowed down in those areas, to minimise any risk of pulling.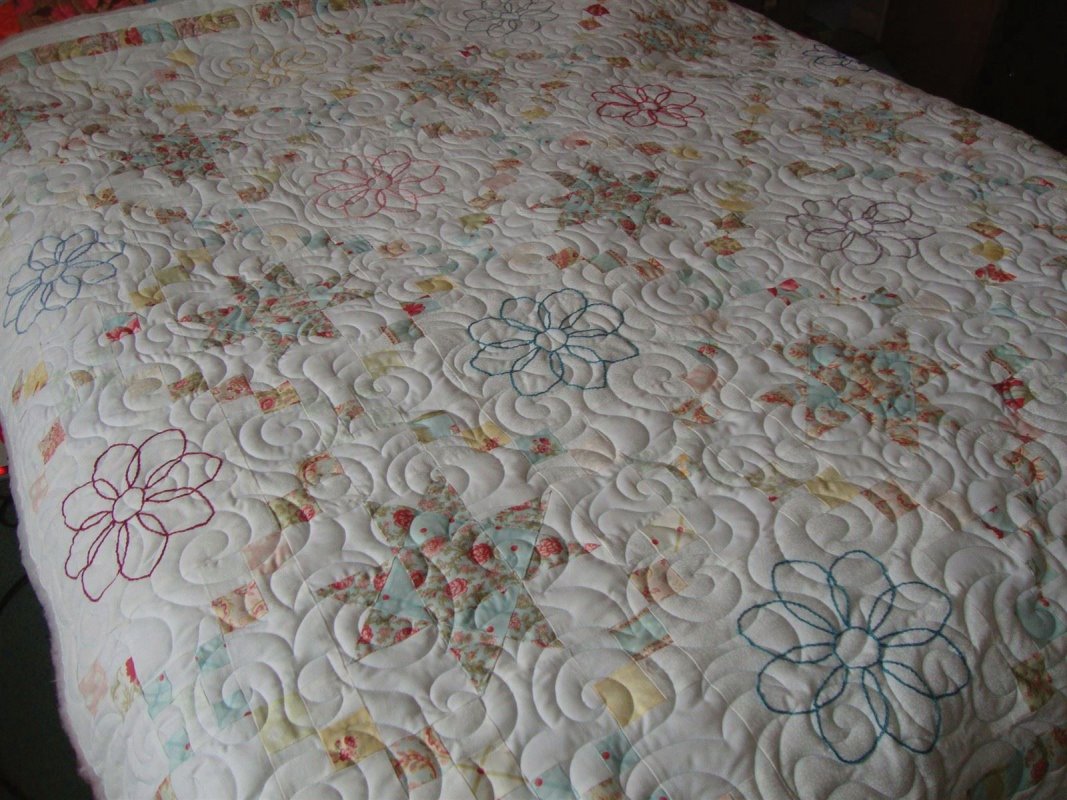 This was quilted with an allover design called "Debs swirls" which you will find in the patterns section of my website.
A close up of the hand embroidery which makes this quilt so beautiful...........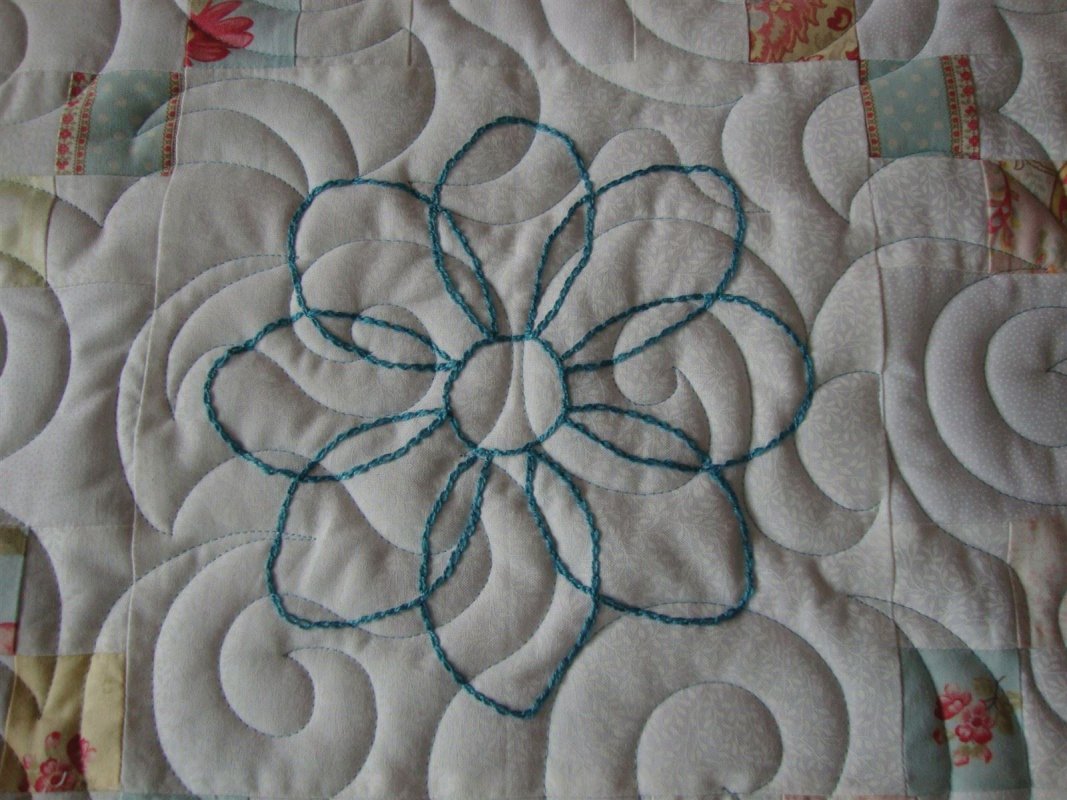 The thread colour is duck egg blue which looked very nice indeed !!!
/