Shopping Cart
Your Cart is Empty
There was an error with PayPal
Click here to try again
Thank you for your business!
You should be receiving an order confirmation from Paypal shortly.
Exit Shopping Cart
This lovely quilt is made by Jacqui in very cool and soothing colours.  The greys, creams and yellows make this quilt very calming.
Jacqui chose the Bush Berries design with a pale yellow thread, it has Hobbs polydown plus wadding inside which gives a nice lofty appearance.
Thanks Jacqui for your lovely comments and I am so glad that you are so pleased with it.
My new customer Nicola brought me 4 quilts a few weeks ago now, and I have been a busy bee quilting them for her. 
Following on from my previous post, the "Tickle" pantograph does looks great on a smaller quilt too.....  I love purple especially purple batiks.  It has reminded me about my purple batik quilt, which is on our camper at the moment, I will have to post some photographs of it soon, which was actually my first quilt I ever quilted with my longarm machine. 
The next one has some lovely hand embroidered sayings worked into a couple of the blocks.  The quilt is pieced from a Moda layer cake called "Bliss" and has been quilted with the "Bush berries" pantograph.
I completely agree ......
This beautiful one, has lots of hand embroidered blocks, and some gorgeous appliqued butterflies and flowers.  This must have taken quite some time to make.  I have quilted it with the "Hearts in bloom" design in a very subtle silver thread. I always feel that my photographs never truly reflect the beauty in some quilts, this is one of them.  I really love it.  I believe that it was either a block of the month, or a kit. 
I will save photographs of the 4th quilt for another post, it is another great quilt.
I quilted this customer quilt a few weeks ago now, and being a large 100x100 inch quilt was fairly difficult to photograph in my studio so the photo only represents about half of this biggie....  It is a gorgeous Irish chain quilt in lovely greens, creams and pinks.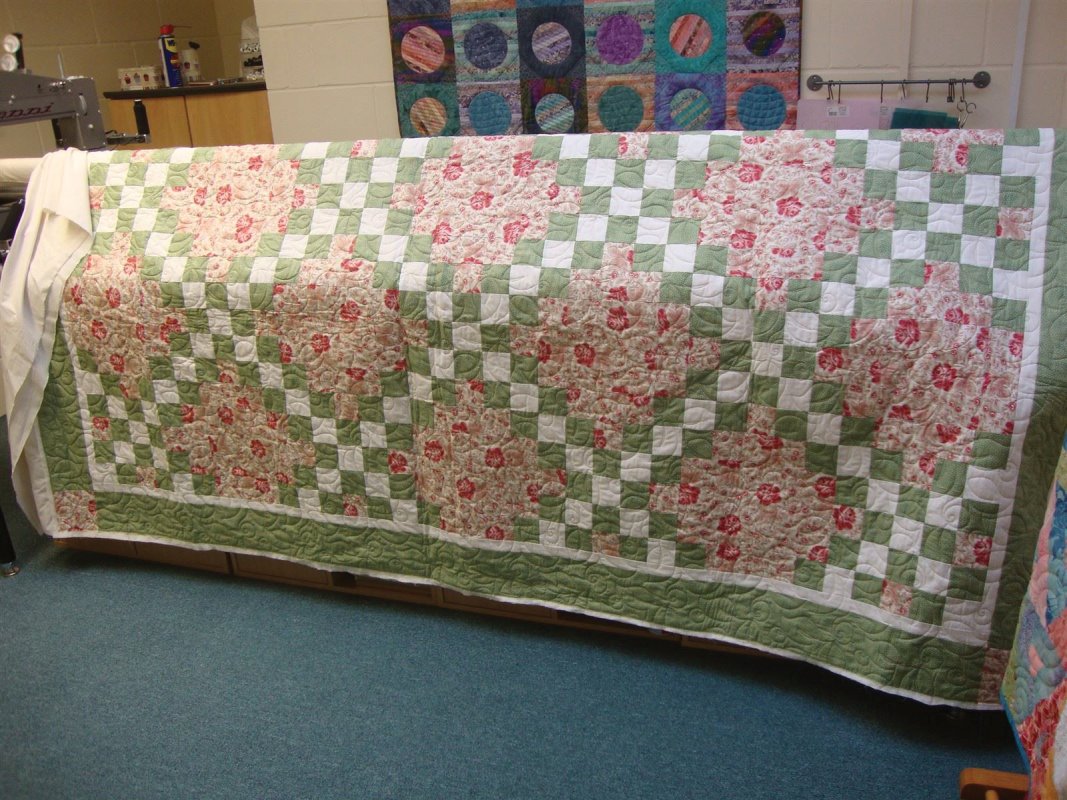 Quilted with "Bush Berries" pantograph which is proving to be quite popular at this time of year and looks great on all kinds of quilt designs.  I love the texture that all over quilt designs give to a quilt.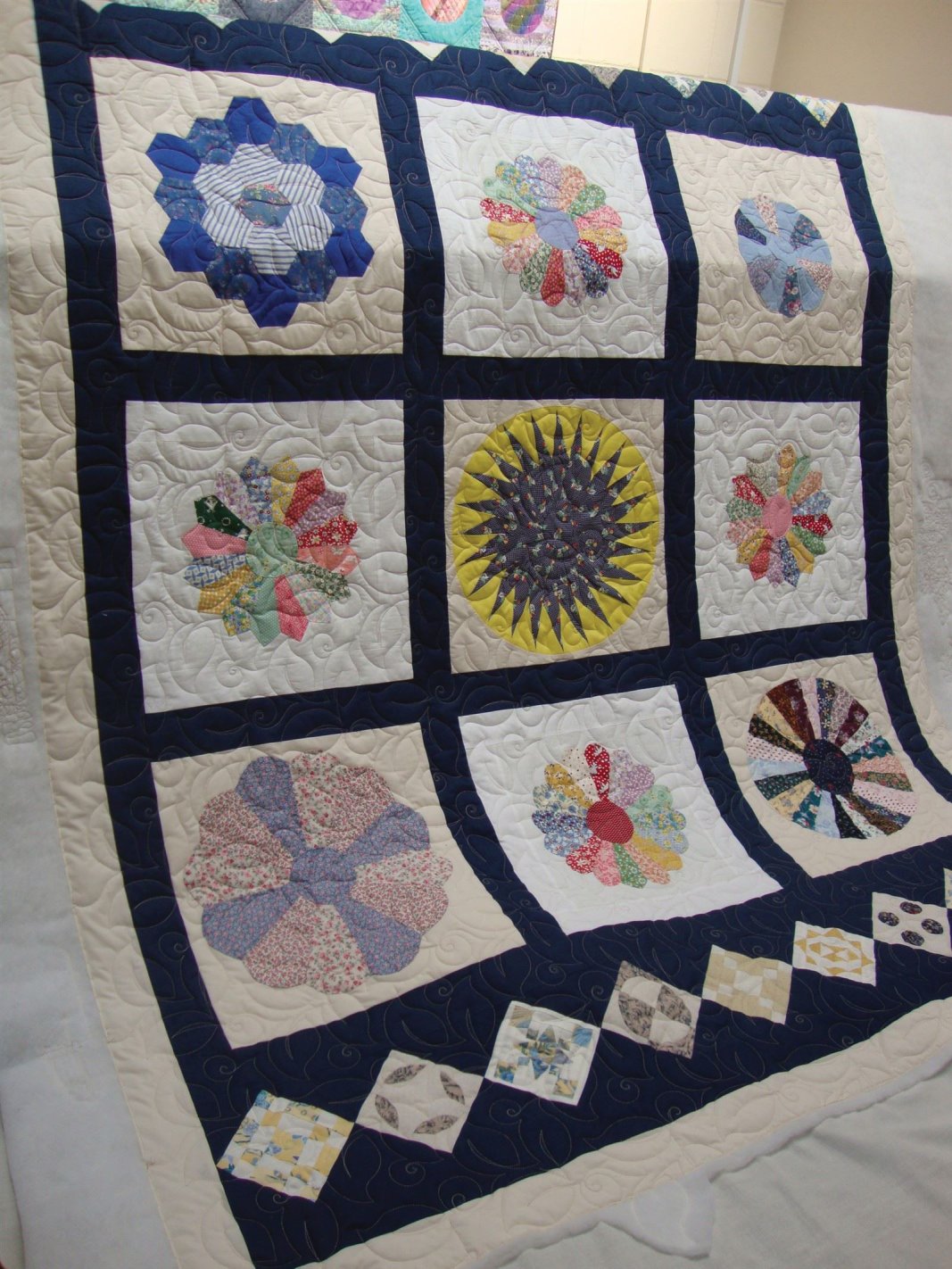 A couple of weeks ago I quilted a charity quilt for a raffle for the local quilt group which I go to once a month.  The ladies who run it asked me if I would be able to quilt this for them in time for their November raffle which is in aid of a cancer charity.   This is rather close to my heart, having lost my Dad to cancer  just three short years ago now.  There have been a few lives lost in Langham from cancer in recent months and years which prompted the raffle quilt to be made.
This quilt was put together from some orphan blocks donated by some of the ladies in the group, which was then sashed together with the navy contrasting fabric.   Some of the blocks were a little on the full side, but after spritzing with some spray starch and steaming it before loading onto my quilt frame, there were no problems during quilting at all, and the "bush berries" design looked lovely with the Hobbs Polydown plus wadding, which has given it a lovely quilting definition.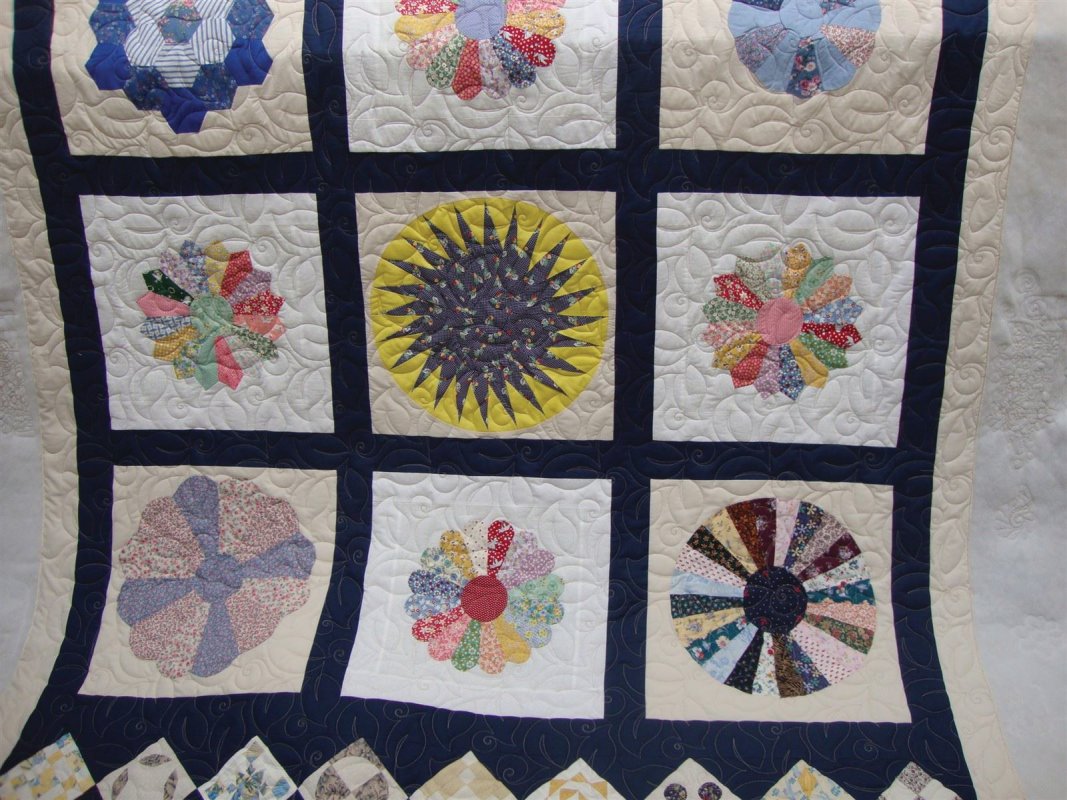 I think it turned out great.  Normally when looking at this type of quilt with such contrast between sashings and background, I would be tempted to custom quilt with matching threads in the sashings and background, and maybe outlining the dresden plate blocks, or echo quilting, or background quilting, however this type of quilting is very time consuming, and an allover design was chosen instead.  This was quilted with a very pale gold subtle thread which actually blended quite nicely accross the whole quilt.
Over the weekend, I have been busy piecing a throw for our dining room sofa which my hubby has been commenting that I have not yet done - although I make and quilt other quilts that we don't need !!!  His words - not mine !!  Anyway, I thought he may be right, so having an excuse to use my Accuquilt GO cutting machine again, I decided to use the "chisel" die, and make a french braid quilt.  I have had for some time,  a stash of fat quarters by Daiwabo (Japanese taupes) in mainly browns, but as there were plenty of dark fabrics with a few lights, I never could decide exactly what I wanted to do with them.  Anyway the chisel die was the inspiration for the braid quilt, and it was so quick to cut, one pass of the die through the machine cut me out 8 chisel pieces, I cut the squares normally with my rotary cutter and ruler.  It was pretty quick to piece too, although I did take some time placing the fabrics (and the whole of our front room floor all Saturday afternoon!!!).  There is a rogue green fabric in the same range, but it looks OK so I left it in the quilt.
I didn't have any dark brown fabric for the strips between the braids, so off we went to Braintree craft centre to buy some on Sunday - hubby wanted an excuse to drive in his new (to him) car and I jumped at the chance !  Although I would never usually spend as much as £10.50 / metre for standard width fabric, but it did mean I was able to finish the quilt on Sunday - so now it is a "flimsy" waiting to be quilted.  However, I suspect it may be quite some time before I can quilt it, as I have 6 customer quilts coming in this week alone so far, added to the ones I am already working on.  It is nice to be busy, and I am certainly not complaining !!!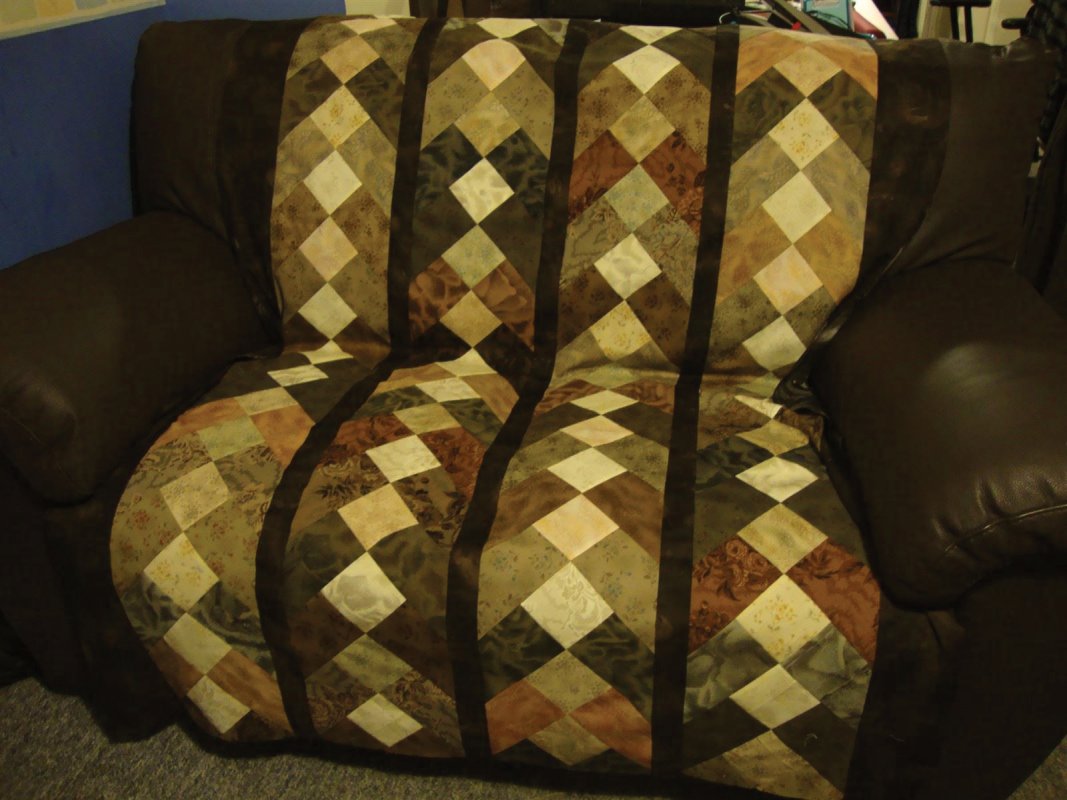 Ready to be quilted !!!
And once that I have finished quilting my quilt on the frame, it is customer quilts for the rest of the next few weeks.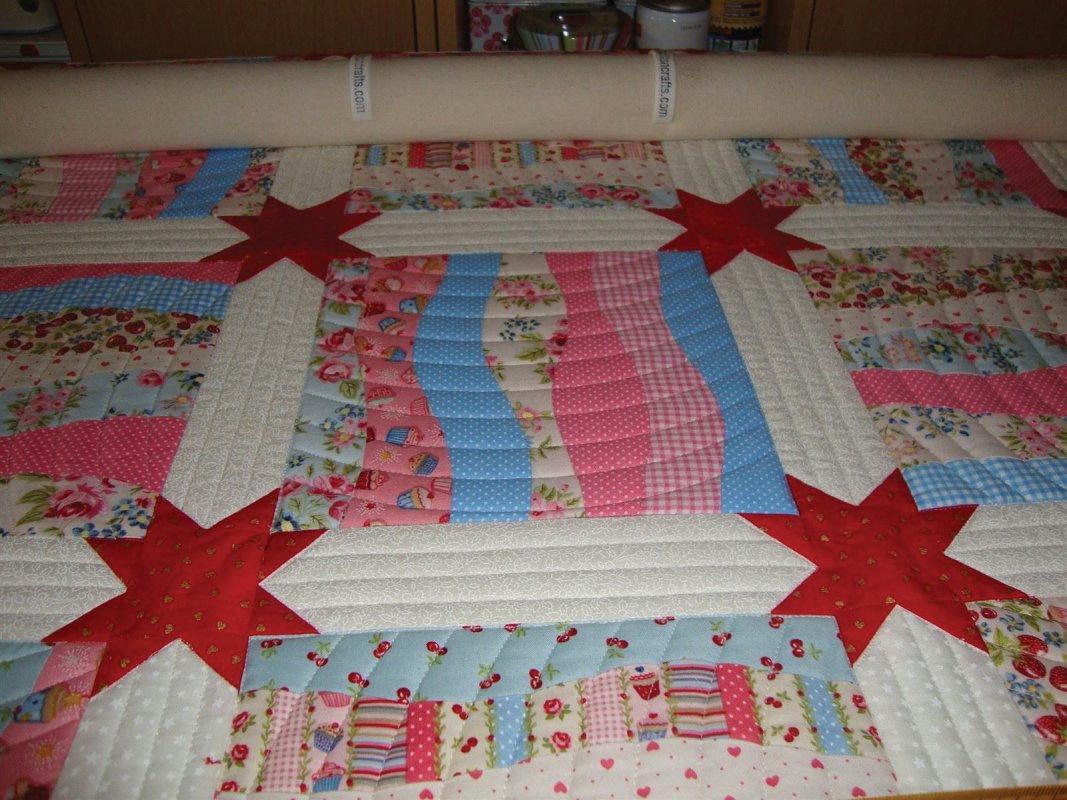 My weekend work also included my quilt, which I have been quilting with rulers, and just have the red star blocks to quilt now and then it is off the frame !!!  quickly followed by a customer quilt on the frame !!
I can't decide what to quilt in the stars though.  I have been waiting for a new ruler, ordered last week, which I had hoped to do some curved crosshatching,  but it has not arrived yet, so may have to save that one for another quilt, and it may just be a plain old circle in the middle.    I may even take it off the frame, do my customer quilts, then add it back to the frame when my new ruler arrives!!
This is exactly what my husband means about making quilts we don't need, because this quilt has no intended recipient, or intended use, it is purely a bit of fun for me !!!  and of course a little bit of skill building with using rulers as guides.
/