Shopping Cart
Your Cart is Empty
There was an error with PayPal
Click here to try again
Thank you for your business!
You should be receiving an order confirmation from Paypal shortly.
Exit Shopping Cart
I am very pleased to announce that I am now the UK dealer for the sale of the fabulous Innova longarm brand of longarm quilting machines.
ABM International is an 80 year old business based in Texas USA and they manufacture not only longarm quilting machines but also the huge manufacturing quilting machines used in commercial applications.
Now you are able to buy the machines in POUNDS STERLING !  Ring Janette today for up to date prices.
The range of machines start with an 18" freehand machine, 22" freehand machine, 26" freehand machine M20 and M24 new series machines.  They can be on a small 5 foot frame width all the way up to 14 feet.  All of these machines you can add a choice of two computer systems to.  Navigator or Autopilot.
More information relating to the machines are available on Innova longarm website. 
click on the link above 
M24 with Autopilot available to view/demo at J-Quilts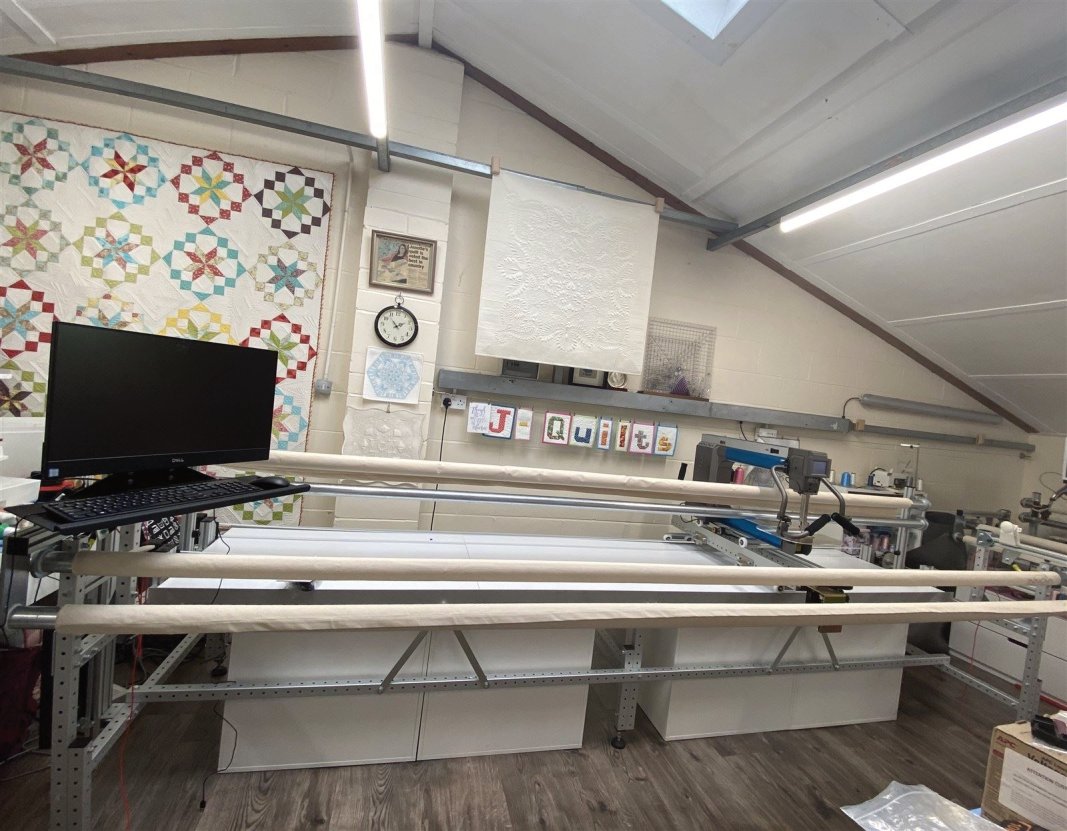 I am now settled into unit 2C after moving from 3C on the 9th February. MIT has been a long few weeks moving three longarms, desks, shelving, and countless bolts of wide back fabrics along with jelly rolls and layer cakes etc.
Business resumes as normal. 
Happy 2018 to all of my lovely customers 
It has certainly been a busy year this year and I have quilted lots of my customers beautiful quilts, one big show quilt of my own, and a couple of little projects.  
A couple of New Years resolutions.  Make more time for my personal quilting, and don't leave my show quilt to the last minute.  Endeavour to be home on time each night from the studio.  Drink more water (that's never going to happen) lose a few pounds (that may not happen either!) and blog more!!!
Just before Christmas I was finishing up lots of allover quilting and a few custom quilts.  
A peak of a couple of the custom jobs which I will detail in another post!
Pieced by Amanda WILLIAMS and Julie Smith 
This year I decided that I would take a couple of days off and appreciate The Festival of Quilts Birmingham NEC as a visitor again, after demoing last year with Mettler threads.
On Wednesday afternoon I was delighted to receive a phone call letting me know that I had won a 3rd place in the Traditional quilts category.  This category is such that if you have used a commercial pattern to create your quilt then it needs to be in the traditional category.  
I had been piecing my quilt from February this year at home in the evenings and weekends. I lost interest and was distracted with making quilted jackets over easter and then come May I was telling myself I had better get a move on if I wanted to not only finish my piecing but start to quilt it. The queen of last minute I needed it loaded for quilting by July and with only a few weekends left before the deadline I decided I just had to get it quilted after having finished the piecing.  Being so busy quilting for customers, my own work comes last and I discipline myself to only work on my personal quilts at the weekends.  Otherwise I wouldn't get anything else done!!!  So every weekend of July I was busy in my studio quilting!  Much to my families disgust with me!  I tell them it is only once a year! 
I used a pattern called Lily pond by Quiltworx and I chose a completely different colour scheme in bright ombré solids and solids
I fussy cut all of the fabric to shade from light to dark.    I'm really really pleased with my quilt as this is my most adventurous piecing project, and first quiltworx pattern involving lots of foundation piecing and curved piecing.   I thought I would challenge myself.   I have had some wonderful comments about my quilt thank you very much to everyone who looked and admired it at the show.  Especially the lovely people who told me it deserved a first place.  
I try not to be too affected by judges comments because I have learned that they do differ at times, this year was no different!  Ill save that for another post! 
Lily pond

Pieced and quilted by Janette Chilver

Lily pond

Obligatory photo in front of my quilt shows the scale

Lily pond by Janette Chilver

Freehand longarm quilting

Close up of freehand quilting

Lily pond by Janette Chilver

Chatting to visitors at Festival of quilts

Lovely interest in my quilt

The back of the quilt

Freehand quilting by Janette Chilver
I often get asked to quilt a quilt ONLY in the ditches, so that the quilting is not visible.
This is certainly not the cheapest quilting option, costing more than a general allover quilting design, purely because of the extra time that ruler work takes.
Stitching in the ditch on a longarm machine involves the use of acrylic rulers to guide the machine in a straight line which gives much better results than purely freehand moving the machine.   This is a skill which takes time to master and thankfully I mastered the ruler skill early on in my quilting career.
Now if recent offensive comments towards longarm quilters on a well known U.K. Forum are to be believed then we are actually the spawn of the devil that we dare to quilt a hand pieced quilt!  Therefore please do not believe such "opinions" because mostly they are based on lack of knowledge about the longarm quilting process. 
These two beautiful hand pieced quilts by Cynthia are great examples of the style quilt that suits stitching in the ditch.  Although officially there is actually no "ditch" to speak of when there is hand piecing involved, or if the seams have been pressed open, and in these cases I must stitch slightly to one side of the ditch so as not to add stress points to the hand or machine stitching.  
To stitch in the ditch is much easier when the seams are pressed to one side and the stitching is then stitched on the "low" side of the ditch. 
| | |
| --- | --- |
| Liberty fabrics look stunning in this patchwork of the crosses design, pieced by Cynthia Dennis. Quilted by Janette Chilver | Pieced by Cynthia Dennis, quilted by Janette Chilver. Patchwork of the crosses design. |
| Back of quilt. Stitched in the ditch around the shapes of the patchwork. | Cynthia's second quilt using the patchwork of the crosss design in Lindbergh fabrics. |
| On the longarm quilting frame. | Patchwork of the crosses. Hand pieced by Cynthia Dennis. Quilted by Janette Chilver. |
I spent Easter bank holiday weekend making myself a quilted jacket after having recently taken an online class on craftsy by Mary Ray.
Ever since I started longarm quilting 7 years ago, I have wanted to make myself a jacket after first seeing some made from sweatshirts on the APQS forum when I first started learning how to longarm.
So as I had a long weekend to "play" with I decided I would attempt to make one.
| | |
| --- | --- |
| | Fabric on the longarm being pre quilted. This is just a freehand doodle that I like to quilt with swirls, pebbles and feathers, my three favourite quilting designs. It took maybe four or five hours to quilt this piece, I found I was slightly short on fabric, so had to sneak back to my studio on the bank holiday to quilt more fabric for the under sleeve panels. |
| | |
| --- | --- |
| In the course I learned some very nice seaming techniques, which are adaptions of the flat fell seam and a Hong Kong finish. I then also hand stitched the binding flat. I couldn't stand it unstitched. I think it looks great finished this way. Very couture of me! Lol | |
| | |
| --- | --- |
| | Construction was challenging as I am not experienced in tailoring or dressmaking. I once made a suit for an interview, but then I did have my mum to help me at that time living at home. I was only 19! Wish I had kept that suit. Size 6 wouldn't fit but still wish I'd held onto it for memories sake. |
| | |
| --- | --- |
| The finished jacket fits fairly well, I still need to insert shoulder pads and decide on a button fastening, but I love the result. My family joke that they won't be seen anywhere with me wearing it but I'll try and ignore them! | |
| | |
| --- | --- |
| | Well I liked the jacket so much that I decided I would make a second one in a little more traditional quilt design, one that maybe my family would find more acceptable! Lol. The second was much quicker to construct having learned the techniques and now hope that this is now out of my system for a while, because I should really have spent the time finishing the quilt I hope to enter in this years festival of quilts! |
| | |
| --- | --- |
| Again, I still need a button, or closure, although I rarely button up jackets it could easily be left bound like this. So from a couple of late nights working on this this week I now have two lovely jackets to choose from. A light wool wadding is pretty warm so it's makes for a nice spring jacket. | |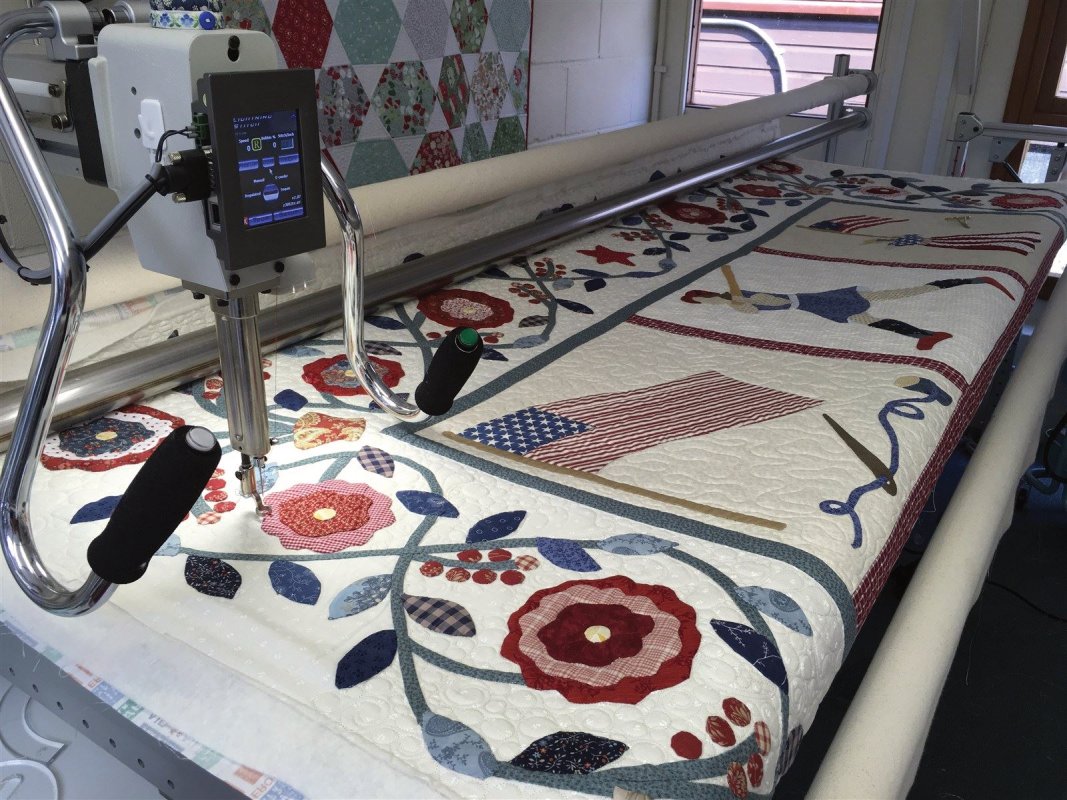 I was recently reminded on Facebook that it has been one entire year since buying my Innova longarm machine to add to my arsenal of business equipment here at J-Quilts.
In 2015 I had tried out Fereets machine at Sandown and fell in love with it.  It just felt right. The right height, the right feel, and of course not to mention the positive reviews in the USA with people switching to Innova.  Anyway later on in 2015 I was fortunate (lucky) enough to win best of show with my quilt entered at the festival of quilts. So I waited and put the prize money towards an Innova just before the tax year 2016 was over.  Amazing service and three weeks after ordering my lovely machine arrived. I built it myself mainly, with some help from my husband.  I'm a "just do it" if I can kind of girl!
I'm still loving this machine for my dedicated freehand work machine.
Everynow and again, I feel like making something fun, so I decided that I wanted to make myself a sewing machine mat.  I had seen some ideas on instagram for simple mats that drape over the table, but I decided I wanted a fitted one to fit over my table and to take advantage of both sides of the table.  Anyway one thing always leads to another, so I also wrote a pattern for it and uploaded it to craftsy.com and to my website for sale.  I will also be adding it to my collection of workshops that I will run from time to time at my studio.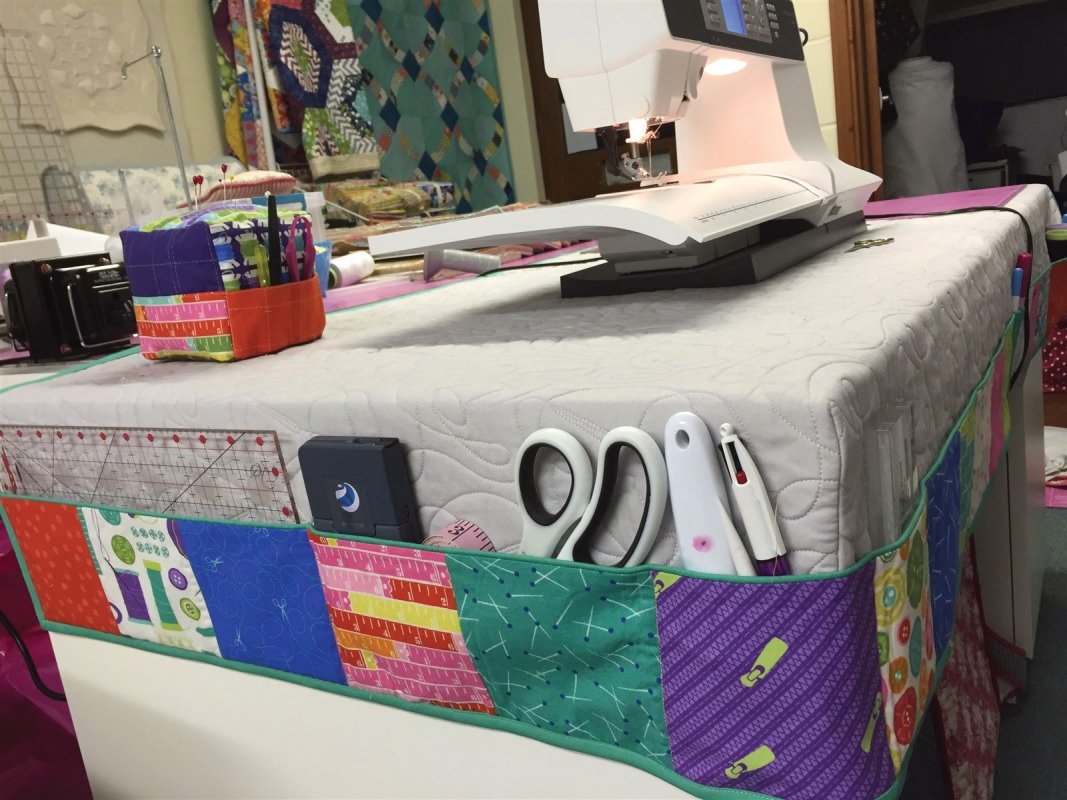 I also made a pincushion cube, and a thread catcher is now in progress.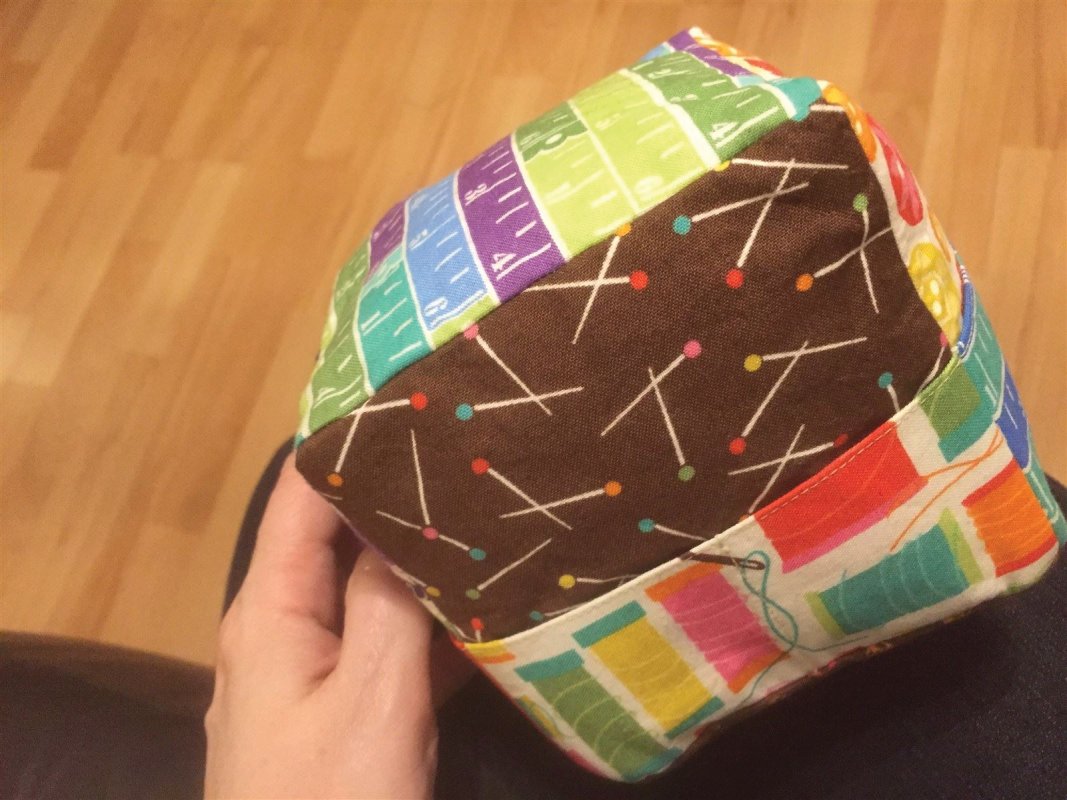 I am sorry that I have been lacking blogging here of late.
I am busy quilting my customers quilts here in my studio, but you can find my current photographs of my work over at Facebook at J-Quilts Longarm quilting and Instagram @j_quilts
https://www.facebook.com/J-Quilts-379050915443598/

https://instagram.com @j_quilts

I had the pleasure of custom quilting Mary Telfords beautiful quilt last July, and have been keeping it under wraps until now as we had decided that we would enter it into The Festival of Quilts 2016 which has just taken place last week.
Both Mary and I are thrilled to bits, to have taken a first place prize in the Two Person category this year.
This is a stunning perfectly pieced quilt made from a pattern by Marshia McCloskey called "Vintage Moments" which I custom quilted for Mary with freehand quilting and ruler work.
The lighting was not that great for photographs at the time that I took them, being there after hours this year demoing longarming on the Mettler thread stand, which I will post a separate post about very soon.
I promise that I am going to make a conscious effort to update my blog on a weekly basis, as some customers were telling me that they do not do Facebook or Instagram but follow my blog,  but if you want to catch up with my latest quilts, then head over to my facebook page J-Quilts longarm quilting or my Instagram page j_quilts where I share lots of photos on a regular basis.

"Vintage Moments" pieced and bound by Mary Telford, custom freehand quilted by Janette Chilver.  First place FOQ2016 Two person category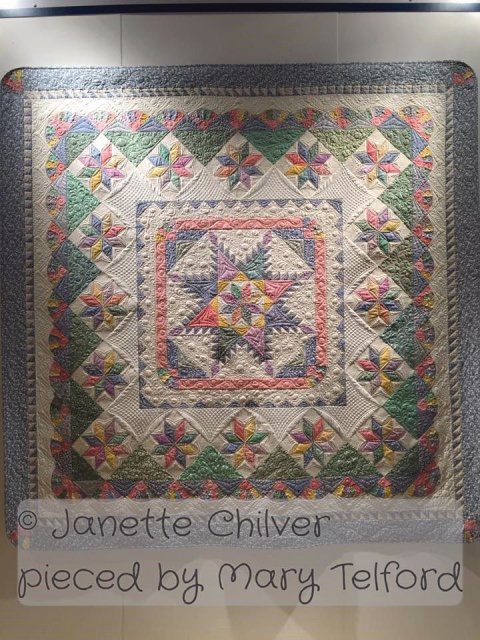 /